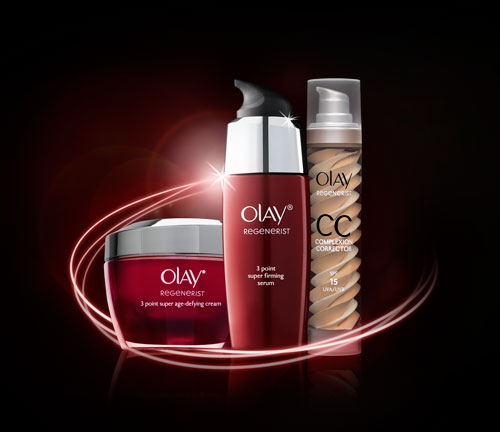 You can either fake it or make it happen, either way, a gorgeously glowing complexion can take ten years off your skin. The best part is you don't need expensive procedures to get the radiant skin you want, just follow our simple lifestyle tips below and watch your skin shine in the best way possible.
Exfoliate
A dull or lacklustre complexion is usually a result of a build-up of dead skin cells. This can cause light to scatter on the skin instead of evenly reflecting it. This gets worse as we age. To remove dead skin cells exfoliation is key. Use a skin-cleansing brush, like the Olay Point Cleansing System (R334.99) to gently slough away any dead skin cells. For maximum effect pair the brush with your daily cleanser or a gentle exfoliator, like the Olay Regenerist Skin Perfecting Cleanser (R99.99). How often you exfoliate depends on your skin type, some can handle gentle daily exfoliation whilst others respond well to twice weekly exfoliation.
Moisturize
Hydrated skin is happy skin so be sure to keep your face well moisturized. Use a good quality moisturiser twice a day that includes a SPF of at least 15. Remember that the sun is the biggest culprit when it comes to dull, damaged skin. To get the most out of your moisturiser be sure to apply it to damp, cleansed skin. This will ensure that moisture is locked in and won't evaporate. Our picks include the Olay Regenerist Microsculpting Super Firming Cream (SPF 30) (R269.99) and Rehydrating UV Lotion (SPF15) (R219.99).
Know your ABC's
BB and CC creams work wonders for a quick boost of radiance. The new Olay Regenerist CC cream (R269.99) is all you need for a luminous complexion. Even better it contains a SPF of 15, ensuring your skin is protected and receives has multiple anti-ageing benefits. The sheer tint reflects light beautifully.
Lead a Healthy Lifestyle
Not getting enough sleep can lower your circulation, leaving you with puffy, pale skin come sunrise. Munch on walnuts macadamia and brazil nuts to get a healthy dose of omega-3 fatty acids, selenium and good for you oils. All of these increase elasticity, lower inflammation and repair the skin. Load up on lean proteins like fish and pulses plus broccoli, which is packed with vitamin C. Just a quick ten minute session of raising your heart rate can get your blood pumping and give your skin a healthy dose of colour.
Be Sun Safe
Something as simple as wearing sun cream everyday can save your skin and keep it bright and radiant. Just because the sun isn't shining doesn't mean its harmful rays aren't damaging your skin so don't be silly and apply your sun cream religiously everyday. Luckily the majority of Olay Regenerist products contain a SPF of at least 15, which means your skin will stay protected.
Fake It
For an immediate glow lightly dust a champagne hued bronzer onto spots that the light naturally hits, like your forehead, cheekbones and bridge of your nose. Champagne shade suits all skin tones. Dry skin types should opt for a cream formulation to highlight their skin.
Do you have any glow-getting skin secrets? Why not share them in our dedicated Olay Regenerist Beauty Diary and you could WIN! Visit our Beauty Diary here
19 total views, 1 views today