Win 1 of 100 Hair hampers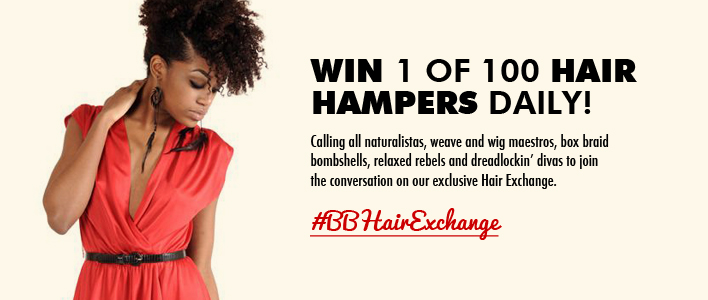 Win 1 of 100 Hair hampers DAILY brought to you by Dark and Lovely, Smooth 'n Shine, ORS, Mizani and Dr Miracle's!
Calling all naturalistas, weave and wig maestros, box braid bombshells, relaxed rebels and dreadlockin' divas to join the conversation on our exclusive Hair Exchange. #BBHairExchange
We want YOU to exchange your hottest hair tips and questions with your fellow BB beauties.
HOW TO ENTER:
Make sure you are a member of Beauty Bulletin (if not sign up here)
1. Login to Beauty Bulletin and go to the #BBHairExchange here.
2. Check out the current questions on the Hair beauty exchange and share your best answers.
We are looking for funky video tutorials, photos and the best advice. Get involved and ask questions too.
Please note: Your entry will be disqualified if you have copied your advice directly from Google or another Website. All content has to be your own.
3. Double your chances of winning by taking the #BBHairExchange convo to social media! Tag @Beauty_Bulletin and #BBHairExchange on Facebook, Twitter and Instagram so that we can see your posts!
From receding hairlines and itchy scalps to battling breakage and brittleness, nothing is off limits on the #BBHairExchange. Winners will be announced on the spot!
Think you have what it takes? Don't waste time and join the conversation NOW! CLICK HERE
Here's to happy hair days!
XOXO Beauty Bulletin
DATES: Starts 18 November and ends on 18th December 2015
26 total views, 2 views today