Between a full time job, university or bringing up kids, there's often very little time for women to tend to themselves. One thing that takes up time and, quite frankly, can be a schlep is washing our hair!
So we all breathed a collective sigh of relief when Batiste Dry Shampoo came to the rescue. Recognised not only for making your hair look clean and fresh, but also for its colourful packaging, the brand has revolutionised haircare as we know it. Whether you want to feel fruity and fresh or need to revitalise your hair colour, there's a Batiste Dry Shampoo can for you.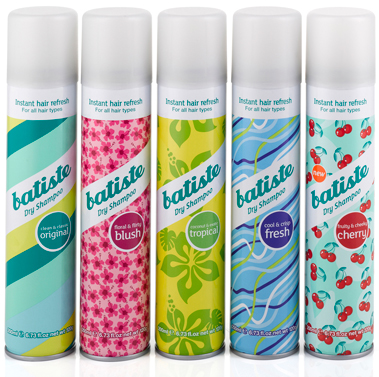 So, how does it work?
At the heart of every can of Batiste Dry Shampoo there lies an innovative starch based, no water needed formulation. As it adapts to the needs of your hair, the formula penetrates the hair shaft, targeting and absorbing excess oil and grease. Voluminous, freshly scented hair is yours in three easy steps. All you have to do is spray at the roots, massage in and brush through.

Who Is The Batiste Woman?
Every women who dreams of a life free from haircare horror stories and wants an easy-to-style solution. Batiste Dry Shampoo can be used on most hair types to add texture and volume. If you're not after volume but want your hair to look and smell clean then simply brush out any excess powder. Simply put, the Batiste Dry Shampoo is for women who want fabulous hair every day.
Use Batiste to:
Quickly refresh hair in between washes.
Get that extra half hour of sleep so that you don't have to wash your hair in the morning.
Give hair a quick perk me up when you know you'll be washing it later in the day.
Did You Know…. That Batiste Dry Shampoo Can Also Be Used to:
Add life to freshly washed hair.
Give more grip and texture when styling hair into an up-do
Prolong rich, vibrant colour as hair is washed less
Reduce over-usage of chemicals on the hair and saves water.
TOP TIP:
To prevent your hair from looking white before its time, keep the nozzle 30cm away from hair when spraying on the product. Massage through with finger tips and style as usual.
Whether you want to be a vintage vixen or a raucous rock chick, Batiste makes it easy to create the look you want.


Do you use dry shampoo? Tell us in the comments box below!
14 total views, 1 views today