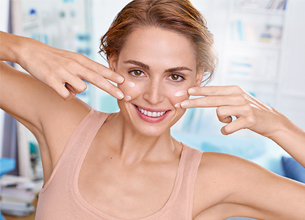 Who doesn't want to wake up to refreshed and radiant skin? We sure do and that's why we're so excited about the new NIVEA Q10 Energy Range. Infused with the powerful antioxidant of Goji Berry, the latest offering from NIVEA revitalises tired, dull skin.
Combining the NIVEA Q10 Energy range with the following tips below will ensure you wake up to a luminous complexion, no matter what life throws at you.
Tip 1: You are what you eat
Just as you eat breakfast to give you energy for the day, your skin also needs a boost in the morning. Super foods like Goji Berries, which are found in the new NIVEA Q10 Energy Day Cream SPF15, are a powerful source of nutrition for your skin as they contain high concentrations of minerals and micronutrients. Goji Berries include 30 essential minerals, including zinc, copper and iron, which accelerate the renewal of skin cells, develop collagen and elastin and carry oxygen through the blood stream.
Tip 2: Get a good night's sleep
Few things are worse than sitting in traffic and dealing with daily stresses. When your body produces an increased level of stress hormones to help you cope with physical or mental pressure, it causes skin inflammation and wrinkles. It also damages your skin's protective barrier, which helps skin retain moisture, and it causes cells to grow old before their time. Sleep helps reduce stress levels, so try and get your recommended eight hours of sleep a night so you wake up looking refreshed.
Tip 3: Wash away the polution
Many of us live in big cities where pollution from cars, smoke and industrial emissions decrease collagen production, causing fine lines, wrinkles and dryness. Cleansing helps reveal radiant skin by removing pollutants and dead skin cells that accumulate and result in dull and tired-looking skin.
Tip 4: Shield your skin from the sun
Our climate can become harsh in summer and overexposure to the sun damages your skin. As temperatures rise you're more likely to expose your skin to harmful UV rays. Prolonged sun exposure compromises the skin's ability to retain moisture. This leads to fine lines, wrinkles and tired looking skin. Protect your skin with a moisturizer that contains an SPF. NIVEA Q10 Plus Anti-Wrinkle Energising Day Cream SPF 15 helps shield your skin from the sun. It contains Goji Berry extract, which immediately awakens the skin for a fresh and radiant look, decreases signs of fatigue and reduces wrinkles.
Tip 5: Give your skin a boost
Start your day with some exercise. Activities like running and walking ensure your body is boosted with a supply of fresh oxygen, encouraging cell regeneration to fight wrinkles and dull skin. If you don't have the time, try NIVEA Q10 Plus Anti-Wrinkle Eye Roll-On with Coenzyme Q10 and Hyaluronic Acid to help reduce puffiness and wrinkles around the eyes. You can store the bottle in the fridge to keep it cool and apply to the skin around your eyes to reduce swelling. NIVEA Q10 Plus Anti-Wrinkle Energy Serum also has Coenzyme Q10 and Hyaluronic Acid to reduce wrinkles and give skin a well-rested appearance and glow that lasts throughout the day.
How do you deal with daily stresses so that your skin doesn't suffer? Share your tips below!
To learn more about this range, click here.
24 total views, 1 views today