UGG - LA Flex
Hot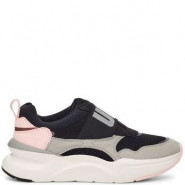 Product Info
Where to Buy
Local Game shop
Brand: UGG Sneakers
Price: R1199 to R2199
Available from: trenton.co.za
Founded in 1978 by an Australian surfer on the coast of California, UGG is a global lifestyle brand renowned for its iconic Classic boot, but now they're shaking up the sneaker game with their new range of stylish, on-trend sneakers made for everyday life. Made for the free-spirited, optimistic, real, and unapologetic individual, UGG Sneakers feature:
- Signature UGG comfort
- Long lifespans: they're made with industry-leading technology, and boast top quality resourcing and craftsmanship
- Relaxed, glam ease: a plush sensory experience with an every-wear vibe
- Effortless adaptability and versatility: wear them day or night, dress them up or down
Trenton is South Africa's one-and-only official online plug of the genuine and iconic UGG and Hunter shoes. They're also the first to bring UGG's latest range of sneakers to SA. Order yours online at trenton.co.za.
User reviews
There are no user reviews for this listing.