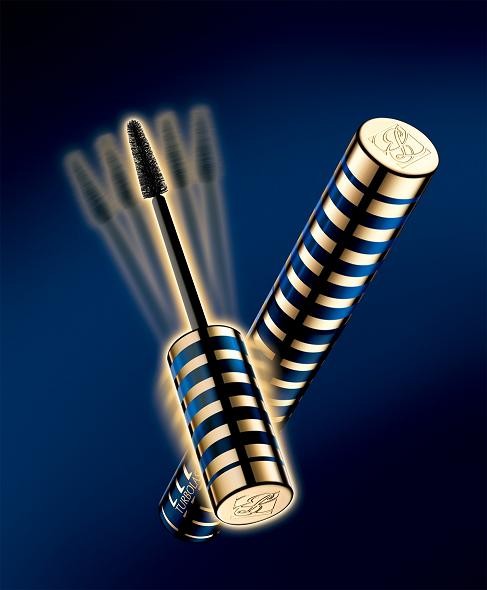 A revolutionary new vibrating mascara that delivers maximum volume, length, separation, definition and curling – All Effects in One!
Ladies get ready to rev up your lashes! A lash revolution is taking place. Now, with the simple twist of the cap, you can power on a ground-breaking new mascara and create the lashes you have always wanted. Estēe Lauder's new TurboLash All Effects Motion Mascara™ is the world's first power-performing, vibrating mascara that delivers all effects – volume, length, definition, separation and curl – in one tube.
A revolutionary breakthrough, the patent-pending TurboLash All Effects Motion Mascara™ combines an innovative formula and brush design with a unique micropulsing effect that allows the brush to penetrate deep into the lash bed and comb through lashes more quickly and effectively. As the brush gently works its way through the lashes, it expertly separates then saturates the lashes with the luxurious formula from root to tip.
Revolutionary Brush Design
Automatically powering on when the cap is twisted to unscrew the brush wand, the ground-breaking, energy-powered, vibrating LashSonic Brush™ tenderly coats every lash from root to tip for lashes that look fabulously full, lusciously long, beautifully curled and perfectly primped every time.
Powered by a button cell battery, the micropulses of the LashSonic Brush™ oscillate at 125-cycles per second, enabling the brush to move rapidly through the lashes, powering away clumps and buildup and delivering expert separation. The micropulsing effect also delivers a clean, rapid and precise formula application by finding even the smallest of lashes and evenly saturating them with color from lash base to tip.
For greater drama or if ever in need of a touch up, the brush design makes it possible to add additional coats without worry. Thanks to the continued separating action of the pulsing wand, it is possible to add multiple coats of the mascara formula without the clumping associated with conventional mascaras.
"There is no need for perfect application technique because the brush works on its own to separate and fan lashes beyond what a brushstroke by hand could ever achieve," said Anne Carullo, Senior Vice President of Global Product Development and Innovation, Estēe Lauder. "With this breakthrough mascara system, every consumer is an expert in creating extravagantly dramatic lashes that pop!"
Advanced Formula for Luxurious Coverage
Designed to work in-sync with the micropulses of the brush, the mascara's rapid-release gel formula features a Total All Effects Finish to give the lashes extreme volume, length, separation, curling and definition.
This unique gel formula consists of "jellified" water, olive oil and paraffin waxes for effortless and buildable application. A blend of Micas and Microspheres help the micropulses give smooth and easy volume to lashes. While Micas improve the efficiency of the lightweight texture to prevent spiking and clumping for a well defined lash, Microspheres provide a ball-bearing effect by pulling and stretching the Mica to achieve the dramatic lengthening and curling effects. Holding all the ingredients together in a lightweight system is a combination of suspending agents, comprised of Kaolin Clays and Cellulose Gums. The result is lashes that are optically exaggerated, lightweight and comfortable and that won't flake, cake or clump.
Power your lashes to new heights with Estēe Lauder's TurboLash All Effects Motion Mascara™. Ophthalmologist-tested, fragrance-free and safe for sensitive eyes and contact lens wearers.
TurboLash All Effects Motion Mascara™ will be available at Estee Lauder Counters nationwide from April 2009 – Suggested Retail Price R365
12 total views, 1 views today