Article by: Donna Hay from www.makeupbulletin.com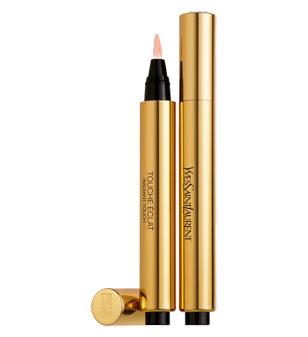 Touche Eclat –  We love it!
This wonder product is extremely light and soft to wear, and adds superb radiance and light to the skin.
Yves Saint Laurent describes it as a micronized powder combined with crystalline and lamellar structured pigments. The crystalline structure makes the pigments react to light the way a prism does. Hence, luminous luscious skin!
Perfect for touch ups during the day, as the microscopic size ensures an even firm film on the skin, and it blends expertly with foundation or powder.

It comes in 3 shades.
1.    Luminous radiance no.# 1 for fair skin
2.    Luminous radiance no.# 2 for medium skin
3.    Light peach no.# 3 for darker or tanned skin
4.    Luminous caramel no.# 4 for ethnic skin
A colour for everyone!
If you have never heard of this product before ladies, please go check it out! As make-up artists we love this product, it hides a multitudeof sins and is worth every cent! Mwah!
24 total views, 1 views today