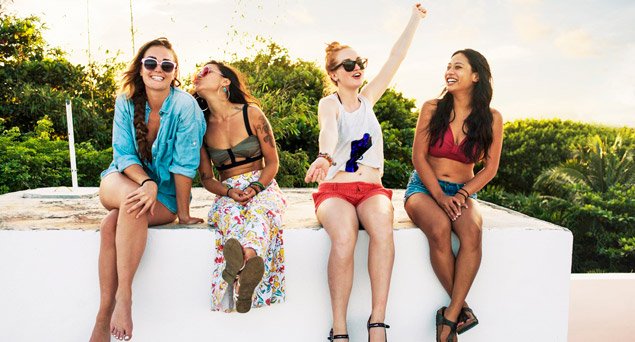 Hooray! It's the Summer season! A time to socialise, dance, drink and get on down. There's just one problem; you've got your period!
Don't despair as we've compiled the Ultimate Party Survival Guide that will have you prepped for the party season even when it's 'that time of the month'!

Be Prepared
If you're not sure when your period will be arriving then always carry a tampon of two in your handbag or evening clutch so that you're not caught unawares. The new Tampax Compak tampons are discreet enough to be carried in the smallest evening bag. Don't forget to stash some cramp-busting painkillers in your clutch too, as nothing ruins a good night out then pesky period pains. Exercise caution if you have taken a pain killer and plan on drinking as this can make for a dangerous situation!

Dress Up
Most of us feel like slouching around in our baggy clothes during our period but avoid this at all costs! If anything, it'll only make you feel worse, instead throw on your favourite party dress. If you are feeling bloated then opt for empire line dresses in soft jersey fabrics that will help to conceal a bloated stomach. Thanks to Tampax Compak you don't have to worry about unsightly leaks, so put on your brightest dress and hit the town!

Stay Low
Did you know your pain threshold is at an all-time low when you're on your period? That means that wearing high heels can feel more painful than usual. Give your feet a break and sport some glitzy flats until your period is over. If you absolutely have to wear your beloved heels then try this trick; tape your second and third toes together (thats the two next to your big toe). This releases pressure on the sole of your foot, leaving you to dance the night away.

Dance The Night Away
The good news is that a night out is something you may just need when you're on your period. Nothing improves a blah mood then dancing the night away, as it releases feel good hormones and will help alleviate mild period pains.

Assign a Butt-Check Buddie
The chase of you leaking is at an all time low thanks to the new Tampax Compak tampons, which are designed to mould to the shape of your body. However, some of us are just plain paranoid, so ask a good friend to casually check now and then to see if you've had an accident.

Stay Hydrated
Excessive alcohol consumption not only causes pounding headaches and nausea, it can also leave you dehydrated and bloated. Couple this with 'that time of the month' and you're going to feel even worse come sunrise. Ensure you drink a glass of water in-between each alcoholic drink you consume.

Eat Well

It's vital that you always nourish your body by eating the recommended five portions of fruit and veg a day, but when you're on your period this is even more important. Eating the right food will set you up for a good mood, clear skin and prevent junk food cravings that always appear during that time of the month. Before heading out for a night on the town, ensure you eat a healthy and nutritious meal so that you don't drink on an empty stomach. Plus fruit and veg are packed with water so you'll be getting your daily dose of hydration too!

Get Your Beauty Sleep
Ok, this might be a tricky one to do during the party season but it's vital you get your 8-9 hours of shut eye when you're on your period. This doesn't mean you can't enjoy yourself and stay out late, it just means that you need be extra kind to your body and allocate some time to snooze where possible.
What are your party survival tips while you're on your period? We'd love to hear, so share them with us below!

18 total views, 1 views today