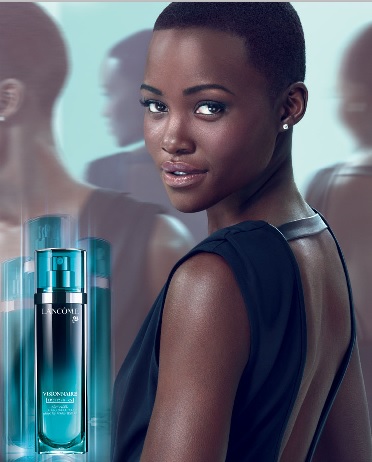 Flawless skin is no longer the stuff of dreams thanks to the newest Lancôme Visionnaire Cx Advanced Skin Corrector Fluid.
Over time our skin loses its luminosity and firmness, resulting in fine lines, wrinkles, enlarged pores and age spots. Lancôme Visionnaire Cx Advanced Skin Corrector targets all of the above, working in real time so that you don't have a wait weeks to see minimal results.
It's all down to the groundbreaking molecule; LR 2412 – Cx or Double Jasmonate Complex. Even more effective than its predecessor, this complex is a unique combination of two molecules from the Jasmonate family. Jasmonic acid is produced by plants when they are under attack or stressed. It signals healing and also assists in growth.
Now we know what it does for plants, but how can it help our skin? Each day our skin is bombarded with aggressors like the sun, pollution and, something we can't avoid, ageing. These factors put the skin in distress and in return we get wrinkles, fine lines, sun spots and much, much more. The Jasmonate Complex works to protect the skin when it's under attack and triggers micro transformations in your skin by signalling for the repair of damaged tissue and growth of new cells.

Jasmonic acid on its own does nothing for our skin, however Lancôme have altered the molecule so that it can easily penetrate the skin. The Visionnaire Cx Advanced Skin Corrector Fluid is so effective that it works in the three levels of the skin; the epidermis, the basement membrane and the dermis, meaning no layer of skin is left untreated. Results are seen in real time, as after just one application the skin is refined and continues to improve over time.
Skin is left with impeccable texture, no visible lines, wrinkles or pores. Now there's no excuse not to look your absolute best everyday of the year.
The Lancôme Visionnaire Cx Advanced Skin Corrector Fluid is available at selected Edgars, Stuttafords, Truworths, Woolworths, Foschini and Red Square stores nationwide for R860 (30ml) and R990 (50ml). Also available in the Visionnaire Cx portfolio is the Lancôme Visionnaire Cx Yeux Advanced Eye Contour Perfecting Corrector (R699 for 15ml). 

Will you be giving this groundbreaking formulation a try? Tell us your thoughts below.
26 total views, 1 views today