Spalicious Limited Edition Gluhwein Soak
Spalicious Limited Edition Gluhwein Soak
Hot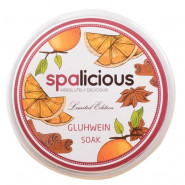 A hydrating sodium bicarbonate based bath soak which deeply cleanses the skin whilst moisturising and soothing with an anti-bacterial touch! Add a tablespoon or two or three of soak to a hot bath, lie back and relax.
Unique Ingredient:
Sodium Bicarbonate Softens rough calluses and skin, neutralises acids
on the skin, an excellent cleaning agent.
User reviews
There are no user reviews for this listing.