Beauty Bulletin Members let their lips do the talking and shared in Lauren Engelbrecht's wealth of makeup and beauty knowledge. Our chat was open for all burning beauty questions!

Beauty Bulletin Members let their lips do the talking and shared in Lauren Engelbrecht's wealth of makeup and beauty knowledge. Our chat was open for all burning beauty questions!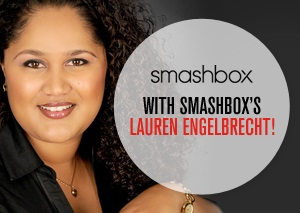 From contouring to coverage, brows to know-hows and trends to tones; there were a myriad of burning beauty questions in the throw!
So many questions, so little time!
 The pace of the conversation was quick, with questions swiftly fired.  We took the opportunity to ask Lauren to discuss a few of the most popular questions a little more in-depth. 
"Prime. Perfect. Set!" Lauren's top must have Smashbox products went a little like this; Primer, powder, foundation, brows, mascara and eyeliner. "No woman should live without her Smashbox Primers for her face, eyelids and under eye area" Agreed! And foundation? "A woman MUST own her collection of Smashbox foundations for her every mood" There are many of these! What about powder? "Set your makeup for success! Last thing you want is your makeup to look cakey and like 'fakeup' " Brows are a big deal to our BB Beauties, what do you say? "If you have not done your brows…you have not completed your makeup. Try one of Smashbox's brow fillers. The brows accentuate both your face and eye shape to play up your unique features."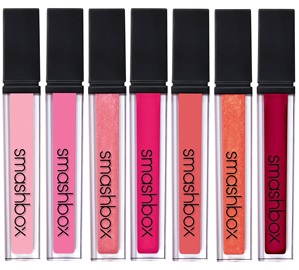 Let's talk Spring/Summer trends! Lips? Eyes? Skin? "
Ladies…Be Flawless! It's all about the Sunkissed, gloss, glam and glow! The hottest summer trends for your makeup is VERSITILITY.
"
"
SHAPE MATTERS! First, know your eye-shape to have all eyes on you. Second…HAVE FUN!
" We couldn't agree more! #laurenesays "
Long-lasting radiant flawless looking skin really is too delicious
" Lips are "
everything right now! #BeLegendary with your luscious lips. Pucker up your pout by having more than one shade of lipstick and gloss for those lips this summer…
" Don't mind if we do!
We love your profile picture, any product suggestions to get the natural look?
"
Preparing the skin is a must. I would never have been able to achieve the natural look and effect without my priming regime. Smashbox Primer Light was my key to smoother, oil-free, softer looking skin!
" Follow with "
Smashbox Halo H.D Liquid Foundation #8 with 100% Liquid Light technology
" and to set? "
Smashbox Halo Hydrating Perfecting Powder…Hello Flawless!
"
As the saying goes, never ask a girl with winged eyeliner why she is late! Any tips on how to create a fool proof winged liner? "SHAPE MATTERS: your eyes are unique and a fool proof winged eyeliner must suit your eye shape as well." 
"TOP TIPS: 1) Use your finger tip to trace the bottom lash line and tauten the eye to extend further than where the lash line ends. 2) Make your mark in line with your finger tip as far as you want to extend your winged liner. 3) Line eyes inwards from where you made your mark. 4) Voila! This is a full proof winged liner that is best suitable for your eye shape and ensures that it gives a lifted look to the eyes as well!" 
When applying eyeshadow, product always falls on the cheeks. Any tips to remove/prevent this?
"Golden rules for eye makeup!  Always use a Smashbox Lid Primer for crease-proof, smudge and budge-proof eye shadow; Tools are important.  Always use good quality brushes; Use the Smashbox fan Brush to sweep away the fallen shadow. It lightly sweeps it away without any mess or fuss."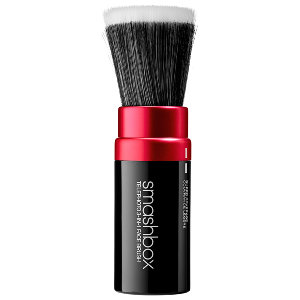 What is your newest
Lust Have
item from Smashbox range? "
My #smashoxfever #lusthave products right now from Smashbox are the new Telephoto 3in1 Brush, Always Sharp Lip Liners and the Be Legendary Lip Lacquers!
" It's so hard to choose, and only a few weeks left to enter the Smashbox Lust Have competition!
Can you provide any tips to adding another layer of foundation to facial scars without it looking ashy? We all have something we would like to disguise! "Try Smashbox Colour Correcting Primer in Blend. This primer helps balance skin tone with issues of dark spots and marks to create a more balanced skin tone for foundation application. You'll find that you get better coverage from your foundation without it looking ashy or grey. If you still need to layer your foundation, try allowing a bit of settle time between layers. This also helps to build your layers better and give a more natural effect."
So, BB or CC cream? And, are they like foundations? "BB and CC Cream are so versatile. They can be used on its own or under foundation. It's an all in one game-changer." So then, "BB Cream is a perfect match for someone who is already lucky to have flawless looking skin and just wants to keep it that way. It is a 5-in-1 product that will prime, perfect, hydrate, control oil and protect with an SPF35." And "CC Cream is for someone who has complexion issues such as dark spots, marks, pigmentation, uneven skin tone and sun damage. It's basically BB Cream PLUS complexion correcting. CC Cream has an SPF 30 and also has slightly more coverage than BB Cream."
 #LaurenESays: "Celebrate your unique beauty. So many women are afraid to express and explore their beauty because society teaches us that beauty is only skin deep. At Smashbox we empower women to discover their unique beauty and really have fun doing so as well! Whether you have 5min or 60min in the morning, doing your makeup can really help brighten your day and make you feel like you are ready to conquer the world." 
#BeautyBulletinSays: "To our community members, you're all amazing! Thanks for taking part and for ALL your questions! We look forward to the next chat!"
21 total views, 1 views today