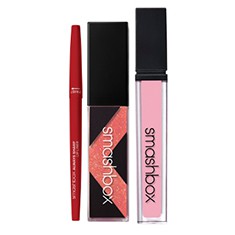 Smashbox Always Sharp Lip Liner is not only water-resistant and long-wearing, but with every twist of the cap this liner sharpens itself! You are guaranteed the perfect lip line with this Smashbox lip liner.
Smashbox Be Legendary Lip Lacquer keeps your lips colourful and moisturised. This lip lacquer contains ultra-conditioning vitamin E and avocado oil to ensure that your lips look great and stay hydrated all day!
Smashbox Be Legendary Lip Gloss gives you ultra glossy lips without getting sticky. This lightweight gloss is the perfect complementary to your Smasbox lips look!
28 total views, 2 views today