Products Tested
Smashbox Photo Op Eye Shadow Trio
Smashbox always sharp 3D Crayon Eye Liner
Smashbox Photo Op Eye Brightening Mascara
Smashbox Full Exposure Mascara
Reviewers
15 Beauty Bulletin members were selected to be a part of the Smashbox All About Eyes product review club. Each woman received three Smashbox eye products to create their ultimate eye look. Each woman received a Smashbox Photo Op Eye Shadow Trio, Smashbox always sharp 3D Crayon Eye Liner and one of three Smashbox mascaras. The women were asked to create a unique day and night look using their Smashbox eye products and to share their looks as well as their thoughts on the products.
Overall star rating: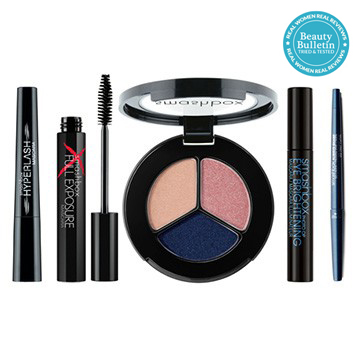 Beauty Bulletin says:
"I tried the gorgeous French Navy, which was easy to apply and incredibly long lasting! The fact that this kohl liner is waterproof means that you can apply it to the waterline, perfect for the tight-liner technique!" Megan. Read more
"Last week my life changed after I began using the new Smashbox FULL EXPOSURE Mascara…wow. With a great sized brush, this mascara went on clump free and stayed smudge free plus it adds volume." Lori. Read more
"The Photo Op Eye Shadow Trio with three gorgeous colours: sand, vapor and thunder was just what I was looking for. With this trio I was able to create more than one look as I prefer more natural looking makeup for the day, doubling up on the mascara of course, and darker eyes for the evening." Lori. Read more
You say:
"I was really impressed that they added a mini makeup lesson on the back label to help you create an easy makeup look. With these three colours, there's really no other colours you need for a simple nude/light smokey eye makeup look. I loved the texture of these eyeshadows too." Lizelle. Read more
"I love this liner! would never have thought to use a green liner either but it really brings out the green in my brown eyes. I hate sharpening eyeliner pencils so the fact that it self sharpens is simply genius! It never went blunt!" Leigh. Read more
"What I really love about these eye shadows is that they are so pigmented, one swipe of it is enough colour!" To hear more about Nobelungu's Smashbox eye experience, watch her video here.
" I used the Smashbox Always Sharp 3D Crayon Eye Liner in Sumatra and I absolutely love it, I love the creamy texture and just by using this it defined my eyes." Naeemah. To see Naeemah's complete Smashbox eye look, you can watch here video here.
{source}
{/source}
11 total views, 1 views today