Review Detail
5.0
2
0.5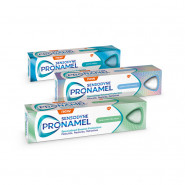 Toothpastes, Floss
April 13, 2021
286
SENSODYNE Pronamel is great! I loved everything about the range from the packing to the feel of it as well as it's effectiveness. I have very sensitive teeth and I need a toothpaste that's both gentle yet effective and I found both of that with the Pronamel range and other thing I loved most about it is it doesn't leave your mouth dry after brushing!!
Product Recommendation
Would you recommend this product to someone else?
Yes
Would you repurchase this product?
Yes
Comments
1 results - showing 1 - 1
And your review is worth more than anything @explorewithphoebekay .... Thank you so much! :D
1 results - showing 1 - 1