Sensodyne Pronamel Range
Hot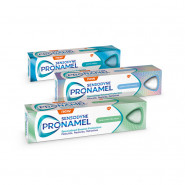 Brand: Sensodyne Pronamel
Recommended Selling Price: R49,99
Available in three variants, Daily Protection, Extra Fresh, and Gentle Whitening, Sensodyne  Pronamel offers specialized enamel protection that rebuilds, restores, and refreshes teeth by:
– Increasing the amount of fluoride that binds with teeth to provide protection against acid erosion caused by foods like pineapple, citrus, soya sauce, vinegar, fruit juice, etc.
– Remineralising weakened enamel by promoting increased calcium uptake.
– Offering all the sensitivity benefits that Sensodyne is trusted for.
Available from: leading supermarkets and pharmacies nationwide.
User reviews
SENSODYNE Pronamel is great! I loved everything about the range from the packing to the feel of it as well as it's effectiveness. I have very sensitive teeth and I need a toothpaste that's both gentle yet effective and I found both of that with the Pronamel range and other thing I loved most about it is it doesn't leave your mouth dry after brushing!!
I love how gentle yet effective the Sensodyne Pronamel Range is on my teeth. My oral health has improved since I started using these incredible toothpastes which leaves my teeth feeling clean, fresh and healthy without any sensitivity. I would definitely repurchase and recommend this range to anyone experiencing enamel erosion and sensitivity. Thank you for the opportunity to have tried this incredible range.