Selsun 2.5% range
Hot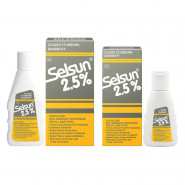 Brand: Selsun
Price: R 64.95 & R 109.95
Selsun 2.5% is Schedule 0 medication used as an anti-seborrhoeic agent for the treatment of common dandruff and mild/moderately severe cases of seborrhoeic dermatitis (excessive secretion of sebum) of the scalp. It can control chronic seborrhoeic scalp conditions and is also effective in the treatment of tinea (fungal) infections, including ringworm.
Selsun 2.5%'s hero ingredient is Selenium Sulphide, a chemical agent commonly used for treating dandruff. This antifungal agent relieves itching, flaking, scaling, and dry skin on the scalp and body. Selenium Sulphide is also effective in the treatment of a condition that causes discoloration of the skin (tinea versicolor).
Available from: Available at Clicks, Dis-Chem, and independent pharmacies nationwide.
User reviews
Selsun has changed my life for the best. Am big on my girl squad because we have been together through the highs and the lows. Every milestone we celebrate each other. My hair have disappointed me alot of times with my hair flaking bad. Selsun 2,5% came to my rescue. After 3 weeks of use washing twice a week am happy with my dandruff and itchy free scalp. Am so happy to finally be ready,confident and flaking free to meet up with my squad to celebrate with no worry of my hair embarassing me. Selsun has changed my life.the results are amazing and l love how effective it is. I highly recommend this products
Product Recommendation
Would you recommend this product to someone else?
Yes
Would you repurchase this product?
Yes