Selsun 2.5% 50ml
Hot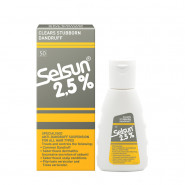 Brand: Selsun
Price: R 64.95
Selsun 2.5% is Schedule 0 medication used as an anti-seborrhoeic agent for the treatment of common dandruff and mild/moderately severe cases of seborrhoeic dermatitis (excessive secretion of sebum) of the scalp. It can control chronic seborrhoeic scalp conditions and is also effective in the treatment of tinea (fungal) infections, including ringworm.
Selsun 2.5%'s hero ingredient is Selenium Sulphide, a chemical agent commonly used for treating dandruff. This antifungal agent relieves itching, flaking, scaling, and dry skin on the scalp and body. Selenium Sulphide is also effective in the treatment of a condition that causes discoloration of the skin (tinea versicolor).
Available from: Available at Clicks, Dis-Chem, and independent pharmacies nationwide.