Rajah Mild & Spicy Curry Powder 100g
Rajah Mild & Spicy Curry Powder 100g
Updated
September 14, 2021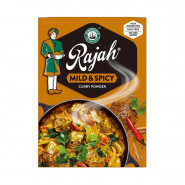 Brand: RAJAH
Price: R22,99
Rajah Curry Powders
Rajah Curry Powders is a range of curry powders with just the right kick to help you make curries from all corners: Indian, African, meat, veg, and absolutely any other curry under the sun. Ingredients are natural, non-irradiated, GMO-free and there's no added MSG.
Rajah Mild & Spicy Curry Powder 100g
Some like it hot, some don't. Rajah Mild and Spicy Curry Powder hits the sweet spot. It's perfect as an intro to curries.
User reviews
There are no user reviews for this listing.