Rajah Medium Curry Powder 100g
Rajah Medium Curry Powder 100g
Updated
September 14, 2021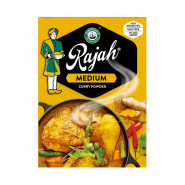 Brand: RAJAH
Price: R22,99
Rajah Curry Powders
Rajah Curry Powders is a range of curry powders with just the right kick to help you make curries from all corners: Indian, African, meat, veg, and absolutely any other curry under the sun. Ingredients are natural, non-irradiated, GMO-free and there's no added MSG.
Rajah Medium Curry Powder 100g
Mild enough for the whole fam, Rajah Medium Curry Powder is made from the best blend of spices – turmeric, coriander, cumin and chilli.
User reviews
There are no user reviews for this listing.