Protex Facial moisturiser
Protex Facial moisturiser
Hot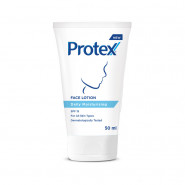 Brand: Protex Face
Price: R74,99
50ml Protex Face Daily moisturiser 
Protex Facial moisturiser is suitable for all skin types and works to hydrate and protect the skin. Its non-greasy, light-textured gel formula hydrates without clogging pores, helping to prevent future imperfections. Plus, it has built-in SPF15 sun protection. It can be used as the final step in both the Protex Face Oil Control and Protex Face Pimple Control skincare routines.
User reviews
This is my new go to moisturiser. I like how it has SPF and glycerin. Also
Blends well when I apply my make up which is a bonus
Leaves my skin feeling soft and looking glowy. It doesn't make me look oily which I absolutely love!
Highly recommend this product!
#ProtexFaceYourDay review
Being part of the people to try this amazing product still makes me happy till this day! This product is honestly everything both a sunscreen and moisturizer, by saying this it has SPF 15 which works as the protective layer from the sun and while doing that it leaves the skin glowing. Other products makes the skin oily or even dry after applying the moisturizer, but NOT the new Protex Face moisturizer ! The product is quite small and a bit pricey for a moisturizer that just arrived in market. Besides that, my skin is happy and my friends even ended up buying the product !

From me and my skin , thank you !