Protex Face Pimple Control Wash
Protex Face Pimple Control Wash
Hot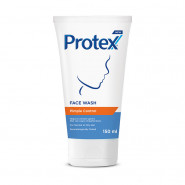 Brand: Protex Face
Price: R62,99
Protex Face Pimple Control
Protex is not just an antibacterial soap… It now also has an anti-germ solution for your face available at Clicks and Dis-chem. Developed with skin experts and dermatologically-tested, Protex Face Pimple Control is a range of face care products designed specifically for use on pimple/breakout-prone skin. 
Suitable for normal and oily skin, Protex Face Pimple Control is formulated with salicylic acid and a combination of anti-inflammatory properties for optimal face care.
The range includes:
85g Protex Face Pimple Control Bar Soap RSP R17,99
150ml Protex Face Pimple Control Wash RSP R62,99
150ml Protex Face Pimple Control Scrub RSP R62,99
50ml Protex Facial moisturiser RSP R74,99
Each of the products works together to fight imperfections by offering 99.9% protection against germs that cause blackheads and pimples. Think: deep cleansing and protection that works to improve the appearance of skin.
User reviews
This is great on my skin. I also use it to remove my makeup and then go in with my pimple control
Scrub. Really does the job,
Especially when removing my make
Up. It doesn't leave my skin dry
Ever since I starting using them I saw a lot of changes in my face , starting to be smooth ,felt clean and no pimples were being formed .. what I like is the smell of the products and their effectiveness
I used pimple control facewash and I must say I love it so much and the price is very reasonable.