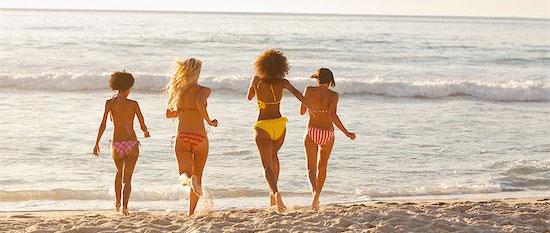 Sporting a bikini is the last thing we want to do when we're bloated, breaking out and on our period. It's a little known fact, however, that spending time in the sun, sea or poolside with great company can lift the mood!
Surround Yourself with Fun
Sure it's tempting to hide at home when it's, 'that time of the month,' but avoid this at all costs. Thinking happy thoughts and being around your friends can take you out of feeling blue, so accept that invite to visit the beach or poolside braai! Swimming is also known to soothe pesky period cramps!
Get Your Product Right:

Don't let Aunt Flo put a dampener on your day by the water; all you need is the new Tampax® Compak tampons. The discreet packaging and easy to insert plastic applicator make it so simple to change your tampon in the loo and pack your tampons in your beach bag, amongst your pool paraphernalia. Tampons will also allow you to indulge in your favourite beach sports without worrying about that embarrassing bulge in your bottoms that a pad can make.
Time Keeper
Just as you would any other day during your period, be sure to keep track of the time and go to the bathroom every four hours or so to check your tampon and change it if necessary. The smooth plastic applicator of the new Tampax® Compak allows you to seamlessly insert your tampon with minimum fuss, no matter where you are.
Well Hidden
Tampons are great for enjoying a day in the sun but there's nothing worse then when your tampon string hangs outside of your bikini bottoms! Ensure it's neatly tucked away and hidden before heading out onto the sand! A great idea is to trim the string slightly, but not too much, to ensure it stays hidden away.
Avoid Cramps Bay
Cramps can seriously ruin your day in the sun, but there are sneaky ways to deal with them. Pack some pain-reliever pills and stay hydrated throughout the day by drinking lots of water. Visit the loo often as a full bladder can make cramps even worse! Another great idea is to lie on your belly and breathe slowly. To avoid bloating and swollen legs keep your feet elevated by placing them on some towels or your beach bag. As tempting as it is to indulge in salty and sweet foods by the sea, try and steer clear as these can make bloating worse.
Banish Breakouts
Pimples and blotchy skin are common side effects of having your period. Ensure your skin is protected from the sun by using a sufficient sun cream, like the NIVEA Sun Protect & Refresh Refreshing Sun Lotion SPF 20 (R 94.99). To conceal any spots use a tinted moisturiser or BB cream, which also evens out skin tone without clogging any pores. Maintain your style credentials by wearing a stylish sun hat and oversized sunglasses.
What's your poolside plan when you're on your period? Share it on our dedicated Tampax® Compak Beauty Diaries, here.
To find out more about getting your period, click here.

21 total views, 1 views today