Oxy 10 Range
Hot
Updated
September 12, 2020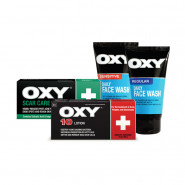 OXY 10 forms part of the OXY skincare regime that cares for problem/acne-prone skin.
It's a scheduled product specially formulated for the treatment of pimples, blackheads and acne with a unique formulation that contains Salicylic Acid and Tea Tree Oil – both of which boast anti-bacterial and anti-inflammatory properties. It works to gently exfoliate the skin and suppress excess oil production while the star ingredient, Benzoyl Peroxide, is the first line and most cost effective, self-purchase acne medication available (as listed in the Department of Health's Essential Drug List).
If you're prone to breakouts/pimples/acne, it was made just for you!
Available nationwide in Clicks, DisChem, Pick 'n Pay, Shoprite and select Pharmacies.
The OXY skincare range is backed by clinically-proven, acne-fighting ingredients that help to treat breakouts simply and effectively. OXY 10 specifically contains Benzoyl Peroxide – the first line, most cost effective, self-purchase treatment for acne out there.
User reviews
There are no user reviews for this listing.