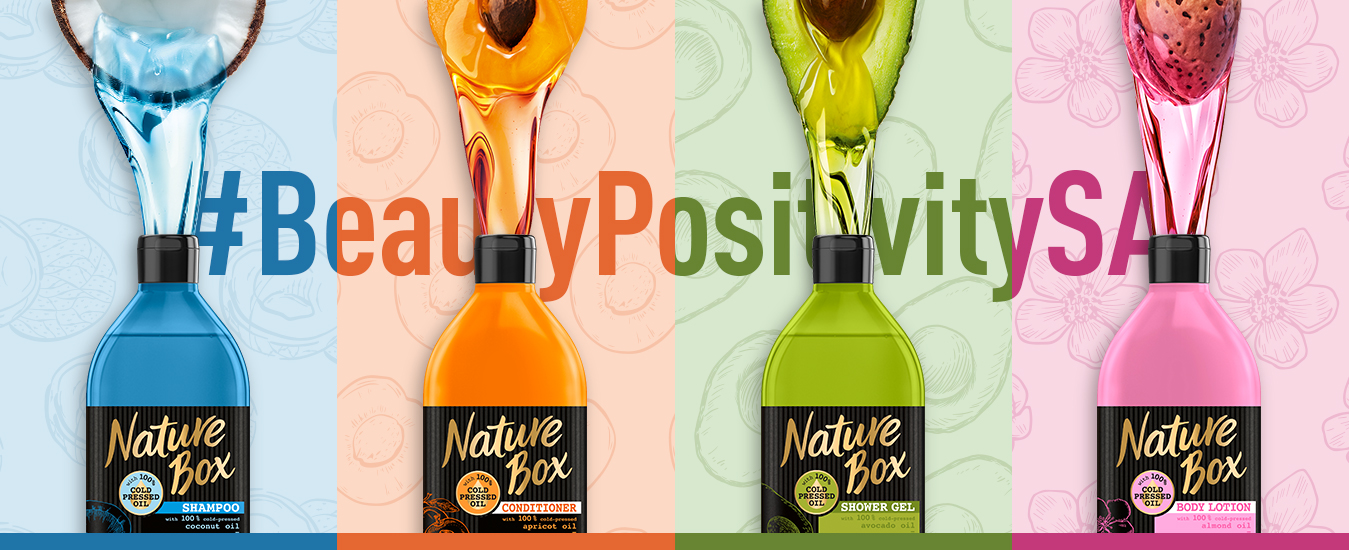 WANT TO TAKE BACK SOME CONTROL, DETOX THE BODY, AND REVIVE THE SOUL?
THERE'S NO BETTER TIME THAN RIGHT NOW TO LIVE A MORE SUSTAINABLE, CONSCIOUS AND CONFIDENT LIFE…
LET NATURE BOX AND OUR CONSCIOUS BEAUTY INFLUENCERS SHOW YOU HOW! #BeautyPositivitySA
Who is Nature Box?
Nature Box is built on the philosophy of Beauty Positivity. Beauty Positivity is so much more than just beautiful hair and skin. It means strenghtening the connection between inner positivity and outer beauty through conscious living, and knowing you are doing something good for yourself and the world's future in every choice you make.

Does Nature Box really work?
YES!
Nature Box's four new ranges each have their own star ingredient: avocado, coconut, apricot, or almond cold-pressed oil. Through premium cold-press extraction methods, Nature Box's new ranges promise to deliver beautiful hair and skin, naturally. Cold pressing is the most efficient extraction process, allowing the oil's essential nutrients to be entirely preserved.

Don't take it from us though… We've recruited 250 conscious beauty influencers to put Nature Box's new ranges to the test. Hear their honest reviews for yourself:

Want to WIN yourself 1 of 4/8 hampers from Nature Box?
Join the conversation online by following and using the hashtag #BeautyPositivitySA and make sure not to miss our #BeautyPositivitySA Insta-Party happening on 20th June from 9AM to 5PM!

Want to know more? Join the conversation online by using #BeautyPositivitySA
{source}
{/source}
32 total views, 1 views today