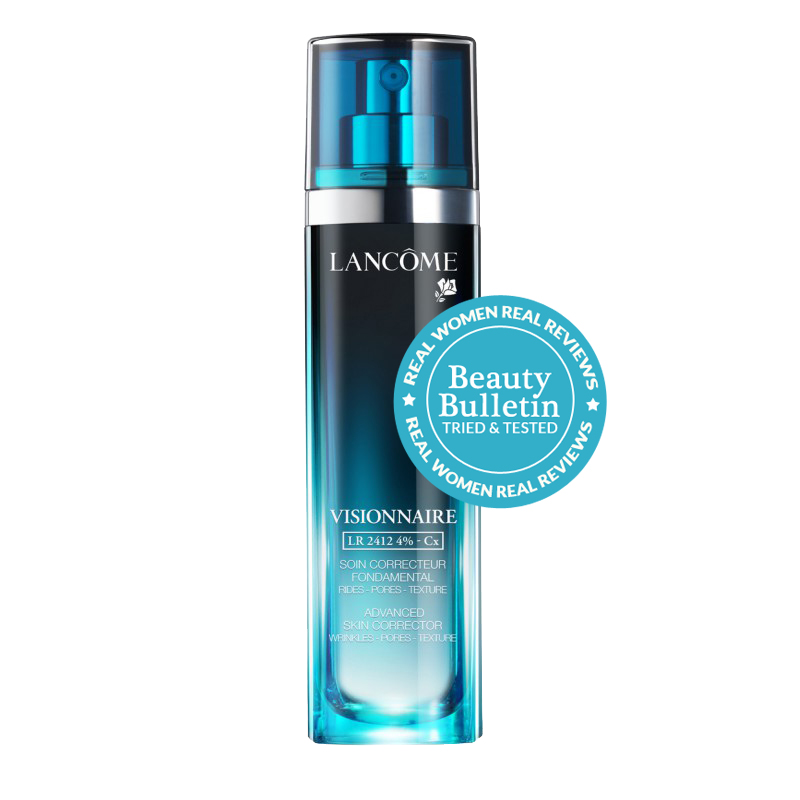 Products tested: Lancôme Visionnaire Cx Advanced Skin Corrector Fluid
Reviewers: 30 women were chosen to put the luxurious Lancôme Visionnaire Cx Advanced Skin Corrector Fluid to the test over four weeks on their fine lines, wrinkles and pigmentation. 
Star Rating: 

Beauty Bulletin says: 
The Lancôme Visionnaire Advanced Skin Corrector Fluid (R 860 at Lancôme counters) is the second generation formula by Lancôme, designed to assist in perfecting the appearance and texture of the skin, every day. The formula contains the molecule LR 2412, which penetrates throughout the layers of the skin to reduce wrinkles and pores, reduce dark marks and create beautiful texture after four weeks of use.
From the first use, our BB ladies saw results. Their skin was softer, brighter and refreshed. They also loved the subtle scent. However, they were a little concerned about the cost of the product.
After one week of use their pores were less visible, their skin tone was even and discolouration was reduced. If these were the results after a week, the BBs couldn't wait to see the results after one month.
After the first month of use, many BBs said that they would save up to buy the product again. The results were amazing: glowing skin, reduced pores and fine lines and their confidence was boosted by miles.
You say:
Immediate Results
 "The turquoise bottle is so elegant that it could easily be mistaken for a perfume." –Brendah
"My skin felt soft, velvet smooth and supple. It had a dewy look and an internal glow. I really could feel my skin re-texturized." –Amanda
First Week Results

"From the first day of use, this treatment left my skin feeling as soft as a baby's bottom, my pores look smaller and all day long I have a smooth skin texture that I have only experienced with the use of a primer."  –Ncomeka
"I have used the serum for a week long and the following changes were showing within days of using the serum twice a day: my skin is suddenly soft, flawless, dark marks are fading, pores are not visible, no more signs of UV damages, acne marks have diminished, my skin is smoother and supple." -Susan 
Final Results
"I am so much in love with my skin, it is smooth, soft to the touch, renewed, no line breaks, no wrinkles of any kind."  –Susan
"I feel as if I just have a natural glow to my skin as if no makeup at all is needed."  –Nooreen
{source}<div class="bb-video-container">