Knorr Cup-a-Snack Roasted Tomatoes and Lentils
Knorr Cup-a-Snack Roasted Tomatoes and Lentils
Hot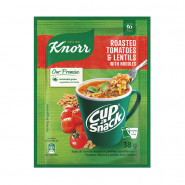 Brand: Knorr
Price: R15,99
If you're in need of a quick snack that will help you power through the rest of the day, the all-new Knorr Cup-a-Snack is a great choice. It's an instant snack made with real ingredients and boosted with noodles to sustain you between meals. It's made with Future 50 Foods – a selection of foods that are good for you and the land. Knorr Cup-a-Snack is available in five tasty flavours, including Roasted Tomatoes & Lentils, Creamy Spinach & Garlic, Spicy Beans, Roasted Carrots & Lentils, and Smoked Paprika & Mung Beans. Available from leading retailers nationwide.
User reviews
Knorr Cup-a-Snack is boss
Knorr never disappoints!!!The Cup-a-Snack packets are delicious and filling all at once. These hearty instant packets will keep you warm and are the way to go.