Knorr Cup-a-Snack Roasted Carrots & Lentils
Knorr Cup-a-Snack Roasted Carrots & Lentils
Hot
Updated
November 05, 2021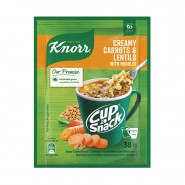 Brand: Knorr
Price: R15,99
If you're in need of a quick snack that will help you power through the rest of the day, the all-new Knorr Cup-a-Snack is a great choice. It's an instant snack made with real ingredients and boosted with noodles to sustain you between meals. It's made with Future 50 Foods – a selection of foods that are good for you and the land. Knorr Cup-a-Snack is available in five tasty flavours, including Roasted Tomatoes & Lentils, Creamy Spinach & Garlic, Spicy Beans, Roasted Carrots & Lentils, and Smoked Paprika & Mung Beans. Available from leading retailers nationwide.
User reviews
A Celebration of Veggies! 😍
Creamy Carrots and Lentils with noodles really highlights and celebrates the brightness and lightness of vegetables! This flavour is very summery while still having the heartiness of winter soup. The flavour is very light on the palette and a vegetable lover's dream! The noodles help sustain and fill you till your next meal! I'd recommend this one to anyone who loves vegetables or summer salads! I love the convenience of these and how they're perfect for someone who is health conscious but doesn't have the time to think too much about what to eat. These have definitely taken that stress away!
Received this from a friend and i must say it taste good and perfect for a young professional like me , as i hardly have time to make snacks or meals when hunger strikes,knorr Cup-a-Snack saves time, it only takes seconds to prepare it