#IntroducingMcCainCrispers Project Wrap Up
If there's a get-together, it's going down at their house. They're renowned by friends and family as 'hosts with the most'. They're monarchs of munchies: queens of finger-foods and kings of kicking dinner parties. They're young, fun, love to entertain. We recruited 100 of them to put McCain's NEW Crispers to test. 
 The Trial Team 
They wanted to know: Are McCain Crispers really the potatoes that won't be left on the side? Do they scoop, dip, and top in ways that leave guests wanting more? Do they put the fun back in meal times – both during the mundane week and as a Friday-night treat? 
There's only one way to find out… By doing what they do best and bringing together their besties for a celebration of food, fun, and friendship.
These avid hosts shouted out about McCain Crispers and what makes them so unique (skin on for that real potato taste, v-cut for scooping, dipping, and topping, locked in nutrients, quick, easy, full of flavour, etc.). They threw epic get-togethers that illustrated the versatility of McCain Crispers (think: a million moreish ways to scoop, dip, and top) and gave audiences the final, honest verdict: Are McCain Crispers the crowd pleasers they've been missing?
 See their post rolls out below.
#IntroducingMcCainCrispers
Week One's Story
REALfluencers kicked off the start of the project flooding Instagram with fun, energy-filled posts #IntroducingMcCainCrispers to followers and explaining what makes them unique and what they promise to deliver. They reminded followers to stay tuned for the Host-Off E-vent where they would be hosting friends/family and having all the fun eating the NEW McCain Crispers!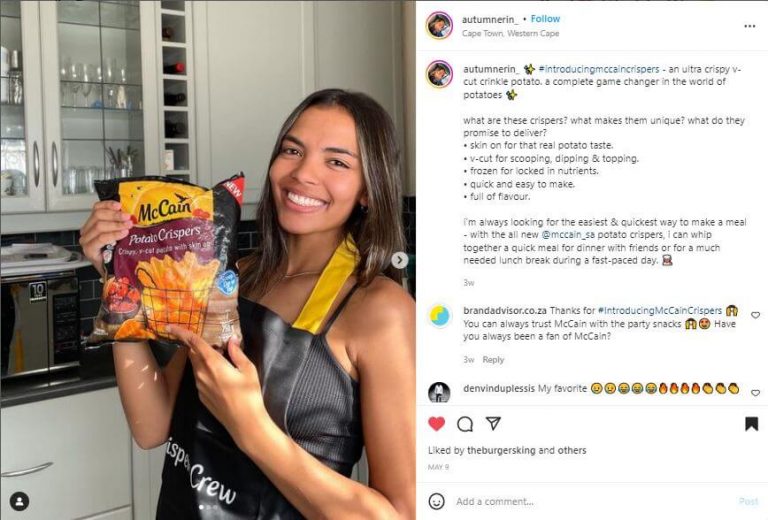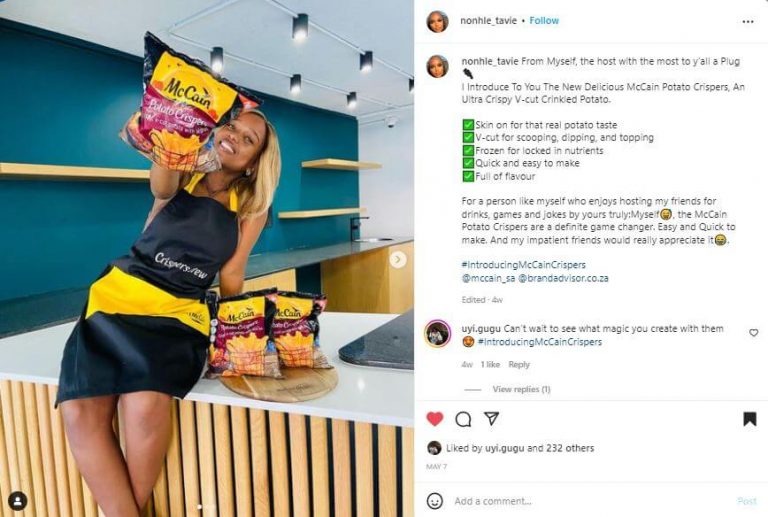 Week Two's Story
REALfluencers brought the heat with reels and videos showing just how easy it is to prepare and serve the NEW McCain Crispers – from air-frying, to deep-frying,and even oven-baked! They demonstrated the various unique ways to serve McCain Crispers and showed the creative ways they topped, scooped, and dipped with mouth-watering dips, sauces, and toppings. Our Host Heroes definitely had all of Instagram drooling all over their screens.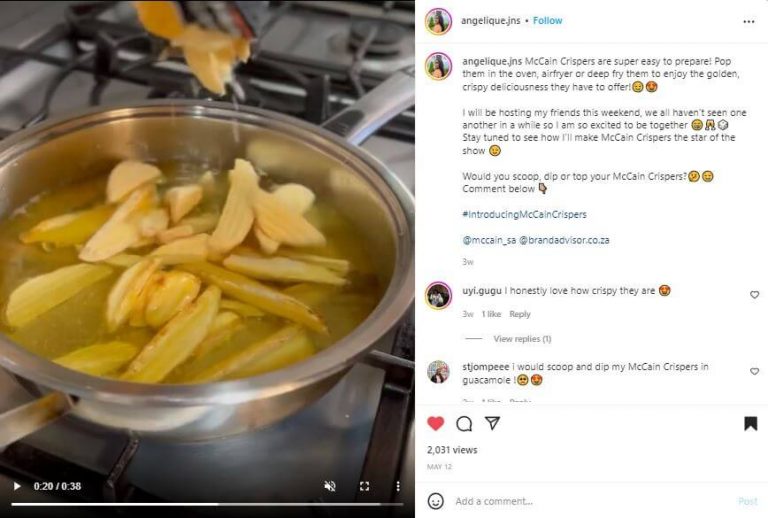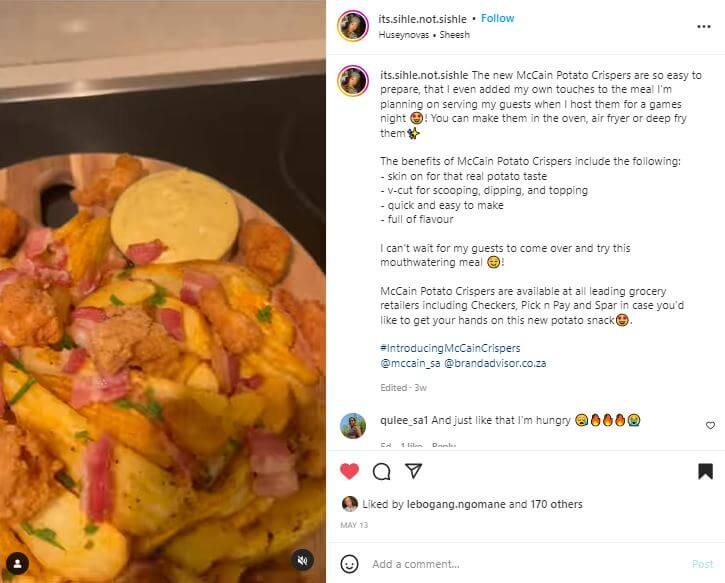 Week Three's Story
The Host-Off E-vent saw REALfluencers host friends and family catered for by none other than the NEW McCain Crispers. Fun-filled reels and carousel posts of REALfluenecrs and their loved ones during games nights, study dates, and even just chilled get-togethers showed just how easy and convenient it is to serve and enjoy McCain Crispers. REALfluencers and their loved ones shared their final verdict on whether the NEW McCain Crispers was a W, and lets just say, that the McCain Crispers took no L's!
Followers also had the opportunity to win their share of 5 x R500 Pick n Pay vouchers by commenting how they would scoop, dip, or top their McCain Crispers.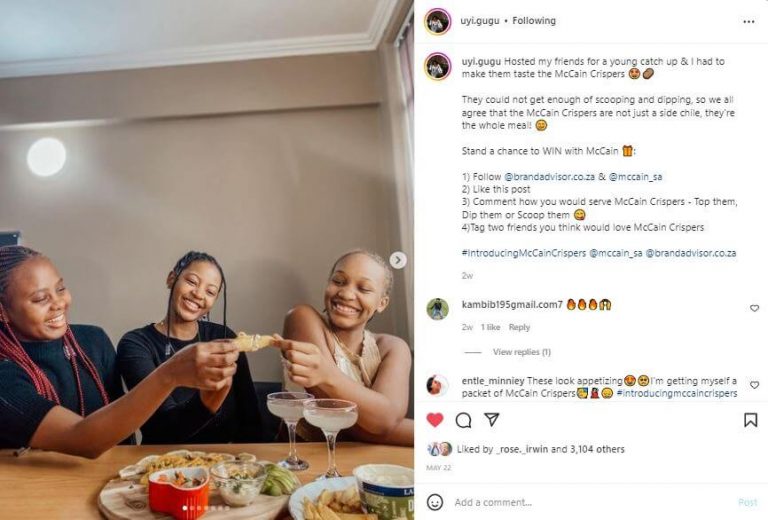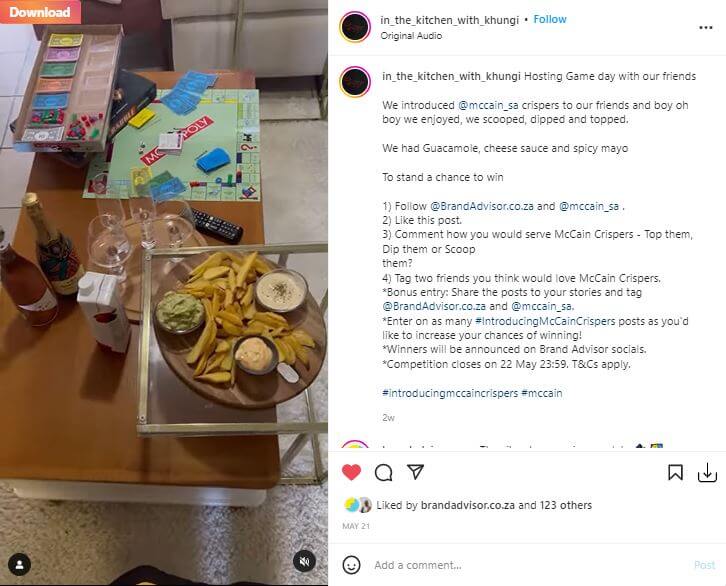 About McCain
According to our #IntroducingMcCainCrispers team, the new McCain Potato Crispers were not only effortless and convenient to prepare and serve, but delicious too with that real potato taste. The unique v-cut also made them perfect for scooping, dipping, and topping and were a real hit with their family and friends. 
✅ Skin on for that real potato taste
✅ V-cut for scooping, dipping, and topping
✅ Frozen for locked-in nutrients
✅ Quick and easy to make
✅ Full of flavour
For more reviews, CLICK HERE.