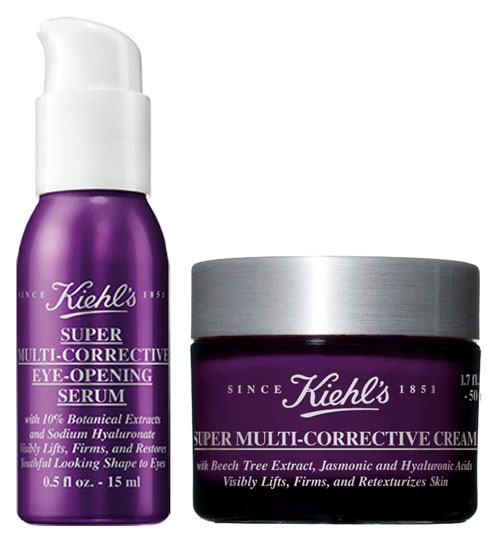 As beauty industry insiders, we're used to having to look our beautiful best, but sometimes the pressure to look young and glowy gets to us. Hundreds of anti-ageing lotions and potions cross our desks every day. Some work wonders. Some don't work at all. Sometimes we wonder if products really make a difference if after all, we're really only as old as we act and feel.
It's against this backdrop of existential ageing angst that two of our 30-something BB staffers leapt at the chance to put iconic skincare brand Kiehl's new Super Multi-Corrective Cream and Super Multi-Corrective Eye-Opening Serum to the test.
Like our two BB's, Kiehl's has had it with aging stereotypes, so they developed these hard-working products to correct the signs of aging in Just. Four. Weeks.
You'll be able to read a whole lot of product reviews here soon, so we won't bore you with too much detail for now, but to sum up:
Did they do the job? Absolutely.
Want the back-story? Read on.
Kiehl's Super Multi-Corrective Cream (R785) contains a unique botanically derived ingredients – Rhamnose, Sodium Hyaluronate, Jasmonic Acid, Beech Tree extract, fragmented Hyaluronic Acid, and skin illuminating minerals – that are proven to lift; firm; redefine contours, and re-texturise the skin in two to four weeks. All that in one clever cream means you can ditch complicated products for good, and say hello to one simplified, multifunctional wonder. But don't take our word for it. Kiehl's sell one of these somewhere in the world every minute, so they must be doing something right…
Kiehl's Super Multi-Corrective Eye-Opening Serum  is also packed with powerful botanical extracts that promise to smooth; lift; firm, and restore that fresh, youthful, open-eye look that everyone is after. Unlike other eye products, you apply this little multi-tasker to the whole eye area so it can work its magic on every last little bit of sagging skin, crows' feet, lines and wrinkles. The results speak for themselves: 42 percent more open eyes after four weeks.
To sum up: You're only as young as you feel, so do your skin a favour and make it feel amazing with Kiehl's.
#ActAnyAge
xoxo Beauty Bulletin
18 total views, 1 views today