Handy Andy UltraFast Multipurpose Antibacterial Spray with Bleach 500ml
Handy Andy UltraFast Multipurpose Antibacterial Spray with Bleach 500ml
Hot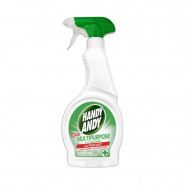 Brand: Handy Andy
Price: R39.00
Handy Andy UltraFast Multipurpose Antibacterial Spray with Bleach 500ml
Kills 99.9% of germs and can be used on anything that needs to be disinfected.
Handy Andy is not just a cream. It's also a range of UltraFast Sprays that offer quick-and-easy daily cleaning solutions for all your surfaces around the house. They claim to take just 10 seconds to deliver clean and shiny surfaces, no rinsing required.
User reviews
The Multi-purpose spray is very effective especially during these Covid times, I highly recommend this one for your handles, keys and surfaces. #handyandysprayforeveryclean
Product Recommendation
Would you recommend this product to someone else?
Yes
Would you repurchase this product?
Yes