Review Detail
4.8
2
0.5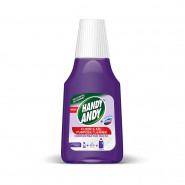 General Home
September 17, 2021
220
Handy Andy Concentrated Refill ♻️
After trialing the concentrate for a few weeks I must say that I am impressed with the work it does.It's a quick and convenient way to clean multiple surfaces, you get the benefits of different products in just one product.
It helps reduce plastic waste while saving you money. ♻️
I'd recommend it to anyone.

Comments