Handy Andy Cream Potpourri 750ml
Handy Andy Cream Potpourri 750ml
Hot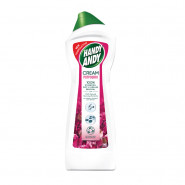 Brand: Handy Andy
Price: R26,99
Handy Andy Cream Potpourri 750ml
Featuring a new look (white bottle with a pink sticker) and formulation, this improved Handy Andy Cream is now even tougher on dirt and grease. It's also safe for use on spaces used by you and the whole family (including food preparation surfaces). It features 100% natural cleaning particles and a biodegradable fragrance leaving your surfaces fragrantly fresh. Plus, the bottle is made with recycled plastic. The best part? It can be used in more ways than you think.
Available at leading supermarkets nationwide.
User reviews
Obsessed with the new look!
I love the new packaging! And it isn't only pretty but super effective as well. I didn't think the Handy Andy Creams formula could get any better but it has! It's so much quicker to rinse now whenever I use it on steel surfaces. I love that the new formulation leaves a a sparkle behind, one that you can see immediately after you rinse. I also love the thinner consistency and the the pungent fragrance.
Excellent smell!
Penetrates the surface/object you're trying to clean with ease. Able to wipe of dirt without damaging the surface/object. Very impressed