Handy Andy Cream Lemon Fresh 750ml
Handy Andy Cream Lemon Fresh 750ml
Hot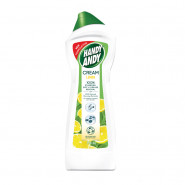 Brand: Handy Andy
Price: R26,99
Handy Andy Cream Lemon Fresh 750ml
Featuring a new look and formulation, this improved Handy Andy Cream is now even tougher on dirt and grease. It's also safe for use on spaces used by you and the whole family (including food preparation surfaces). It features 100% natural cleaning particles and a biodegradable fragrance leaving your surfaces fragrantly fresh. Plus, the bottle is made with recycled plastic. The best part? It can be used in more ways than you think.
Available at leading supermarkets nationwide.
User reviews
Handy Andy has always been a stable cleaning product in our house hold but I was excited to join this campaign just to see what it can do for us. I have to say it delivered
Lemon has always been my favourite, and with this new formulation, I'm happy that I can use it anywhere and everywhere! I used it to clean our chopping boards and it left them looking and smelling so clean! I'm happy that I can now use it on all our eating surfaces too because it really does leave the kitchen looking and smelling clean and fresh! A quick clean and rinse and you're good to go.
I loved this lemon 🍋 flavor, but it has a little foam which made me want to add soap at some point. Although it really tough on stains