Handy Andy Cream Lavender 750ml
Handy Andy Cream Lavender 750ml
Hot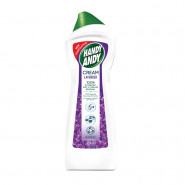 Brand: Handy Andy
Price: R26,99
Handy Andy Cream Lavender 750ml
Featuring a new look (white bottle with a purple sticker) and formulation, this improved Handy Andy Cream is now even tougher on dirt and grease. It's also safe for use on spaces used by you and the whole family (including food preparation surfaces). It features 100% natural cleaning particles and a biodegradable fragrance leaving your surfaces fragrantly fresh. Plus, the bottle is made with recycled plastic. The best part? It can be used in more ways than you think.
Available at leading supermarkets nationwide.
User reviews
Lavender has always been a firm favourite of mine! I love the calming and soothing scent. I used this variant to clean my handbags and I was so impressed with how it restored their original look. I also used it to wash my makeup brushes and I was so happy to find that it removed tough stains like foundation and blue eyeshadow which are always the toughest to get out. Because of the new formulation, it left my brushes clean without damaging them or making them shed hair. My brushes now look and smell fresh, clean and prestine!