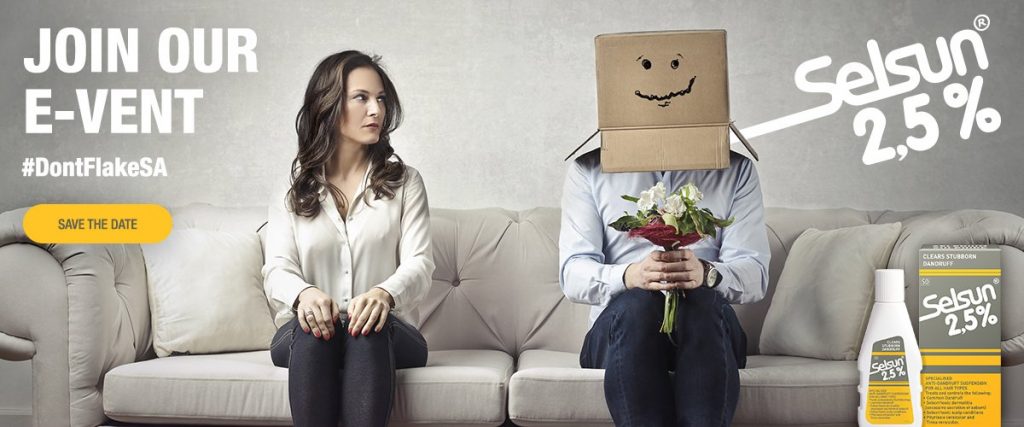 Are you ready for Glo-up Team's BIG REVEAL?
YOU'RE INVITED to the #DontFlakeSA E-vent!
WHAT TO EXPECT
Our Glo-up Team of influencers have been battling with dandruff, itchy scalp, or an irritable skin condition that makes them too self-conscious to show up to life's special occasions. That's why they've been trialing Selsun 2.5%, the shampoo that promises to make their scalp/skin condition a thing of the past. #DontFlakeSA
During the #DontFlakeSA E-vent, Glo-up Team will be facing their flaking fears and showing up to reveal their After photos and (hopefully) celebrate their results with YOU!
This is your chance to hear them spill the tea on whether Selsun 2.5% really works to address their scalp/skin condition and see the proof for yourself… Will they show up? Or will they keep flaking…
BEHIND THE SCENES
Each influencer has given Selsun 2.5% to a friend that struggles with the same issues and challenged them to show up to the #DontFlakeSA E-vent. Will they flake it or make it? Join to find out!
JOIN THE #DontFlakeSA E-vent TO FIND OUT
Did Selsun 2.5% work to treat their dandruff, itchy scalp, or irritable skin condition? 
Are they finally confident enough to show up to the occasions they've been flaking on?
Will they be able to wear the black outfit they've been avoiding, free of flakes?
Will they don the dress or vest that used to show their dry patches?
SAVE THE DATE
Saturday, 24 July from 9am – 5pm on Instagram.
HOW TO JOIN
– Follow #DontFlakeSA on Instagram
– See just how well Selsun 2.5% worked for our Glo-up Team
– Join the conversation by sharing your own story. We want to know if your dandruff, itchy scalp,
or irritable skin condition is making you flake on occasions you're meant to enjoy?