Deep Relief 30g
Hot
Updated
September 12, 2020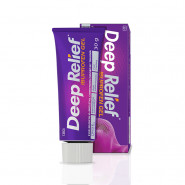 Deep Relief is a powerful topical anti-inflammatory and analgesic intended for the symptomatic relief of acute painful musculo-skeletal conditions caused by trauma such as: arthritis, muscular aches, pains and swellings, back ache, joint pain, sprains, strains and sports injuries.
Deep Relief gel formulation is non-greasy and contains Ibuprofen and Menthol. Deep Relief works at both levels of the pain mechanism; on inflammation and in interrupting pain signals. Deep Relief is the only Ibuprofen Gel available on the South African market. Only Deep Relief combines the powerful pain-relieving action of Ibuprofen with the immediate cooling sensation of menthol. The Deep Relief formulation has penetration enhancers which speed up the absorption of Ibuprofen through the skin directly to the point of pain in the muscles and joints. Deep Relief is a topical Ibuprofen gel which is an effective alternative to oral Ibuprofen. Deep Relief provides fast, long lasting, targeted pain relief. Available in 30g & 50g at the front shop & 100g over the counter, Deep Relief Ibuprofen Gel has a three-year shelf-life.
How to use this product?
For best results apply a pea sized amount up to 4 times a day. (Pea sized amount goes a long way with this product as it spreads nicely)