Products Tested:
DermaControl Range ( DermaControl foam wash, DermaControl moisturiser SPF30)
Dry/Very dry/Psoriasis Range (Gentle cleansing lotion, Daily advance lotion)
Restoraderm/Eczema Range (Restoraderm Body Wash, Restoraderm moisturiser SPF30)
Oily Range (Oily skin cleanser, facial moisturising lotion)
Reviewers:
60 female reviewers were selected to participate in the Cetaphil Product Review Community.
20 reviewers suffering from eczema (10 who suffer themselves and 10 who have children or babies that suffer from eczema).

10 were reviewers who have oily skin

10 reviewers who are using an acne medication

10 reviewers who have normal skin

10 reviewers who have dry skin
60 reviewers were sent products from a Cetaphil range that correlated with their respective skin type or skin problem. The reviewers used their respective products for between 1 -3 months in order to begin seeing results. Although Cetaphil offers a range of dermatologist recommended skin care for various skin types and conditions, Cetaphil products are not only for problem skin. The complete Cetaphil range promotes a healthy skin for life.
Overall star rating: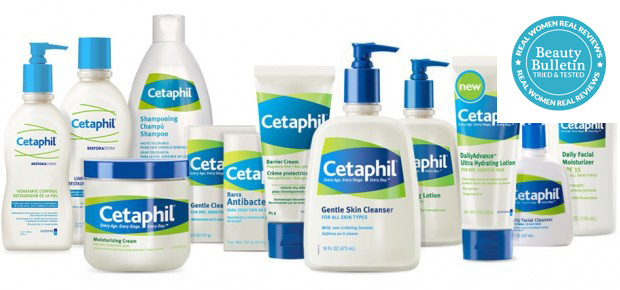 Beauty Bulletin says:
We love the extensive Cetaphil collection with a unique skin care range designed for various skin types or skin problems. We were impressed to learn that although Cetaphil products are often recommended by dermatologists, there are in fact a number of Cetaphil products for those of us who do not suffer from a skin condition. The packaging is user friendly and the washes, cleansers and moisturisers feel nourishing on the face and body.
You say:
"I loved that my skin didn't feel dry or like cracking after I have rinsed it and my skin still felt squeaky clean. " – Imka. Read More
"Cetaphil Oily Skin Cleanser can be the perfect alliance to defeat the shine monster once and for all!" – Leigh. Read More
"I have never had such smooth and soft skin. No itching, no sores, no flaking skin."- Michelle. Read More
"I am thrilled to report absolutely NO itchy legs and my little bumps on my chest and back have vanished completely." – Maryanne. Read More
{source}
{/source}
56 total views, 1 views today