Review Detail
4.8
6
0.5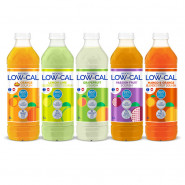 Drinks
March 15, 2021
1815
Half of my life I have been a water person (literally drinking water everywhere, even restaurants) because I couldn't trust the sugar level on concentrated sodas and juices. When I heard about Brookes Low-Cal, I got excited because I didn't have to worry about sugar intake, and I trusted it more when I heard it is endorsed by Diabetes of SA and The Heart and Stroke Foundation, that means it is safe to consume. I gave it all 5* because I can boldly recommend it to anyone, even my parents without worrying. Brookes Low-Cal has been a great addition to my healthy lifestyle and family as well. It is indeed heavy on taste and lite on sugar. It is now part of my family grocery list.
Product Recommendation
Would you recommend this product to someone else?
Yes
Would you repurchase this product?
Yes
Comments