Brookes Low-Cal Mango Orange
Brookes Low-Cal Mango Orange
Hot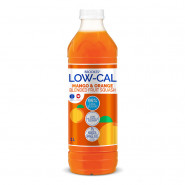 Brand: Brookes Low-Cal
Price: R42,95
Brookes Low-Cal is a great tasting fruit squash with low kilojoules and less sugar (0.0-0.7g per 100ml vs an average 4g per 100ml) and is endorsed by Diabetes of SA and The Heart and Stroke Foundation.
Each bottle of 1L squash dilutes into four litres of fruity refreshment. It's available in five flavours: Orange, Grapefruit, Mango & Orange, Lemon & Lime and Passion Fruit flavours.
Available from: Purchase from leading supermarkets nationwide.