Black Suede Hot 75ml
Hot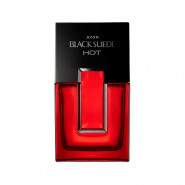 Brand: Avon
Where to buy: BUY NOW
Standard Retail Price: R299
Avon's Top Scents promise to be the transformative touches every scent-obsessed fragrance collector needs to complete their look and set the mood. 
Black Suede Hot has an addictive woody, oriental and aromatic fragrance with exotic bergamot, hypnotizing Madagascar cinnamon and sensual tabac bourbon that delivers an intense scent.
User reviews
There are no user reviews for this listing.