Avon Fragrances for Him
Hot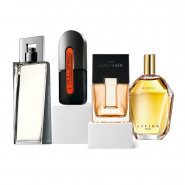 Brand: Avon
Where to buy: BUY NOW
Prices:  R250 - R380
Full Speed Original eau de toilette R330
A fresh scent bursting with citrus and crisp cypress that settles into a rich woody base.
Full Speed Max Turbo eau de toilette R330
An exhilarating citrus scent revved up with explosive juniper, invigorating cardamom, and spicy musk.
Black Suede Original eau de toilette R299
A leathery scent enlivened by warm woods and fresh greens.
Black Suede Touch eau de toilette R299
A fresh mandarin scent emboldened by wild blue lavender and finished off with suede.
Black Suede Intense eau de toilette R299
A distinct black pepper scent harmonised by creamy vanilla and cashmere woods.
Black Suede Essential Body Spray R46,90
A strong, spicy fragranced body spray infused with Black Suede Essential.
Black Suede Essential Roll-on Deodorant R33,90
A freeing blend of aromatic wild lavender and rich sandalwood with a masculine suede base.
Aspire For Him eau de toilette R250
A touch of woody and alluring spices.
Attraction For Him eau de parfum R380
A citrus scent that is predominantly warm-spicy and woody with slightly powdery and fresh-spicy undertones.
User reviews
If you are looking to smell great but like be your budget is tight, Avon is definitely perfect for u
I love this brand. Would definitely like to recommend it.