Avon Fragrances for Her
Hot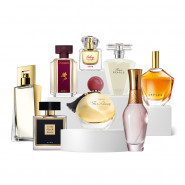 Brand: Avon
Where to buy: BUY NOW
Prices:  R250 - R450
Far Away eau de parfum R330
An infusion of dreamy floriental scents of luminous freesia as the top note, jasmine as the middle note, and Madagascan vanilla as the base note.
Far Away Infinity eau de parfum R330
An intense and sweet perfume with Italian bergamot as its top note, sweet and refreshing orange blossom as its middle note, and warm Madagascan vanilla as a base note.
Far Away Glamour eau de parfum R330
A more glamorous take on Far Away's signature scent featuring musk as the top note, black currant bud as the middle note, and rich Madagascan Vanilla as a base note.
Far Away Rebel eau de parfum R330
Notes of crème de cassis, fresh orange blossom, signature Madagascan vanilla, and salted toffee and chocolate make for a distinctive yet elegant scent.
Far Away Beyond eau de parfum R365
Upcycled Madagascan vanilla extract, uniquely created through double distillation of used beans to reveal a hidden treasure: a new, precious, and intense facet of vanilla, unlike any other is enriched with woody notes and jasmine florals. 
IMARI Classic eau de toilette R250
A floral bouquet is enhanced with fresh aldehyde notes that rest on a bed of woods and mysterious sensuality.
IMARI Seduction eau de toilette R250
A provocative scent, Imari Seduction is an elixir of narcotic florals and oriental woods.
IMARI Corset eau de toilette R250
A sensual fragrance with blends of cocoa butter, sandalwood, and notes of leather. 
TTA Today eau de parfum R450
A feminine scent with notes of precious hibiscus, silky musk, and butterfly blossoms.
TTA Tomorrow eau de parfum R450
A musky scent featuring unique notes of neroli flower and warm African violet, amber, and raspberries.
TTA Always eau de parfum R450
A floral bouquet of neroli flower, soft pink rose, and white peony deepened by velvety vanilla notes.
Little Black Dress R330
Classic scents of oriental florals wrapped in feminine jasmine simmer down into Indonesian dark patchouli and vanilla. Sweet jasmine and cyclamen are the top notes, with gardenia and ylang-ylang flower in the middle, while the base consists of sandalwood, musk, and plum.
Aspire For Her eau de toilette R250
A bold and empowering scent of lively jasmine, warm woods, and precious musk.
Treselle eau de parfum R250
A rich floral scent with touches of tiger orchid, white tuberanthia, and lasting musk.
Rare Pearls eau de parfum R330
Magnolia features as the top note, white pepper in the middle, and a base note of creamy rosewood completes this aromatic scent. 
Rare Gold eau de parfum R330
A floral aldehyde scent with ylang-ylang, orange mandarin, peach, and bergamot at the top, tuberose, aldehyde, orange blossom, gardenia, and lily-of-the-valley in the middle, and amber, sandalwood, vanilla, woodsy notes, and musk as the base.
Attraction For Her eau de parfum R380
A lasting infusion of blackberry, magnetic musk accord, and vanilla amber.
User reviews
There are no user reviews for this listing.