Apple & Cinnamon Jungle Instant Oats 750g
Apple & Cinnamon Jungle Instant Oats 750g
Hot
Updated
November 04, 2021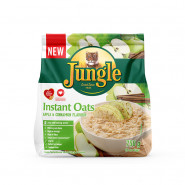 Brand: Jungle Instant Oats
Jungle Instant Oats are packed with the same goodness as the original Jungle Oats – pure wholegrain oats that deliver low GI energy to keep you fuller for longer, digestion-regulating fibre, and beta-glucan fibre to lower blood cholesterol levels for heart health. The only difference is that Jungle Instant Oats are rolled thinner to cook quicker so all you have to do is add boiling water and the oat lover's dream is served! No time? No stress! Now in a delicious Apple & Cinnamon flavour.
User reviews
Jungle Boss - Apple and Cinnamon
This was an absolute pleasure to try . My favorite flavor. I really enjoy having it , it has made my mornings happier .
I love the convenience of how easy it is to prepare .
Jungle Instant Oats Apple and Cinnamon was a real hit in my family. We absolutely enjoyed that it still had the taste and flavour that we love, and all the added benefits. We were able fo have a great breakfast even on busy mornings as it was so quick and eazy to make.
Did you know Oats are among the healthiest grains on earth? Thanks to Jungle Instant Oats, I don't have to skip breakfast anymore. It is also a convenient, super-fast, and healthy breakfast option, not to mention it's extremely simple to make.
I love the Apple & Cinnamon Jungle Instant Oats as the smell reminds me of Christmas or pancakes on a rainy day.