Anja van der Spuy from Glitz and Grammar
Follow her: www.glitzandgrammar.co.za
@Glitz-and-Grammar on Facebook | @AnjaWintour on Twitter and Instagram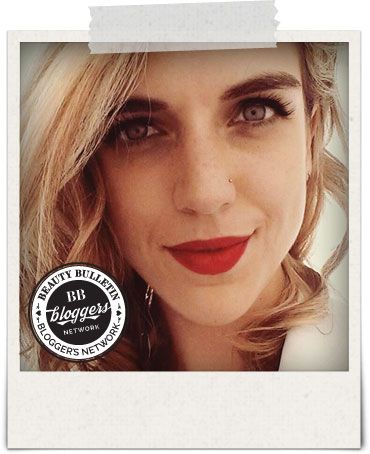 Q&A
Tell us about your blog? Glitz and Grammar aims to discuss everything that's relevant in Hollywood, but with a lekker South African flavour. Under 'Grammar' you'll find cheeky open letters to celebs, as well as Red Carpet Rants, discussing celebs' questionable red carpet outfits. (Everyone is looking at you Madonna.) Under 'Glitz' you'll find fashion and beauty posts featuring products from local retailers
What are your top three handbag beauty essentials? Red lipstick from MAC – I prefer 'Relentlessly Red' in matte. It lasts super long! Blistex – I can't leave the house without lip balm. Max Factor Pan Stick – when the bags under my eyes go from Prada to PEP, I like to cover them using this stick. 
What is your everyday makeup look? I like to keep it fairly natural during the day. So it's all about a subtle cat eye and red lipsticks for me
Choose One:
   Lipstick or lipgloss? Lipstick. I live in Cape Town, and its super windy here. There's nothing more annoying than havig hair stuck to your lip-gloss! 
   Heels or flats? Flats – I'm already tall enough!
Your failsafe 'ugly day' beauty fix? A colourful lipstick. It distracts people from whatever I'm feeling self-conscious about! 
Visit www.glitzandgrammar.co.za to find out more about Anja.
19 total views, 1 views today