We know that styling your natural hair can be a tough feat, especially with all the different spring/summer trends emerging.  A main concern for natural-haired girls is trying to keep their tresses modish while still keeping their hair protected.
Braids are a big trend this season and the Goddess Braid is one such hairstyle that allows a modern look while still keeping your hair protected. Sophisticated and classy, it's also office appropriate and guess what? Perfect for date night this Valentine's Day too! This is our how-to:
Step 1: Blow Dry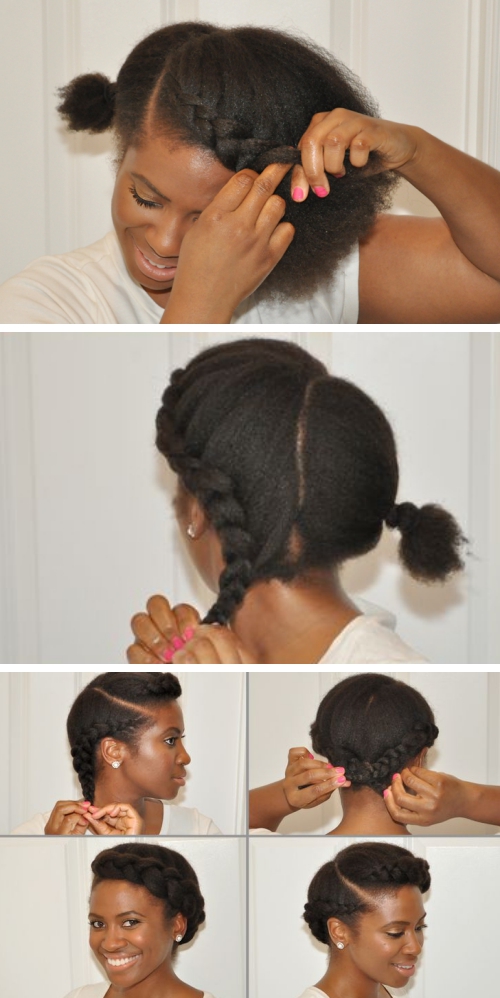 For a chunky and fluffy braid, freshly blow-dried is a must and kinky curly hair textures will pick this up beautifully!
Step 2: Moisturise
Moisturise your scalp as well as your hair prior to braiding. For this, we love the Schwarzkopf Smooth 'n Shine Nourishing Hair Food with Moringa and Olive Oils (R35.95 at Dis-Chem Pharmacies). A deep care formula like this means that your hair and scalp will remain nourished and conditioned for up to 48 hours.
Step 3: Section
Using a rat-tail comb, section your hair into two parts by parting it where you desire. Nicole Melton (below) gave herself a beautifully feminine side part.
Step 4: Edge Prep
Before resorting to your French-braiding skills, use an edge control gel to keep your baby hairs in place. We love ORS Edge Control (R44.95 at Clicks). Read some lovely ORS reviews.
Step 5:
This is when your French-braiding skills are needed! Begin by plaiting a chunky braid all around the parameter of your head until you reach the nape of your neck.  Repeat the process with the second section of hair. Secure both ends of each braid with bobby pins and VOILA! You have your goddess braid!
TIP: Polish off your look with a sheen spray. We love the Schwarzkopf Smooth 'n Shine Oil Sheen Spray (R39.95 at Dis-Chem Pharmacies) or you could also try the Dark & Lovely Diamond Rich Sheen Spray (R32.95). Read more on what BB Insiders had to say about Dark & Lovely.
BB Beauties, will you be giving the goddess braid a go? Leave your answers in the comments section below!
23 total views, 1 views today