#AfricanExtractsRooibosMan PROJECT WRAP UP 
The NEW African Extracts Rooibos Men's Range is made with the power of natural plant extracts and promises to REFRESH, HYDRATE, and PROTECT – no matter how demanding your lifestyle. We challenged 100 Men with demanding lives to put the two new ranges to the test!
The Trial Team
These REALfluencers are real men that are on the lookout for a skincare routine that supports their busy, adventurous life. If they aren't city-slicking in the office or on dad duty, they're wave hunting, mountain exploring, braaing with the boys, 4x4ing to freedom, or tinkering with tools in their garage. 
They may be able to handle their demanding lifestyle, but their skin? Not so much.
Week One's Story
REALfluencers introduced the African Extracts Rooibos Man  #FaceAnyObstacles challenge by sharing a snapshot of what a day in their busy/adventurous lifestyle looks like. 
They revealed their skin type and which range they'd be trialling: African Extracts Rooibos Man Original with Plant Extracts for Normal/Dry Skin OR Oil Control with Charcoal for Oily Skin, and why they felt the range could complement their lifestyle.
REALfluencers also reminded followers to stay tuned for their next post where they'd be showing their simple skincare routines using the NEW African Extracts Rooibos Men's range.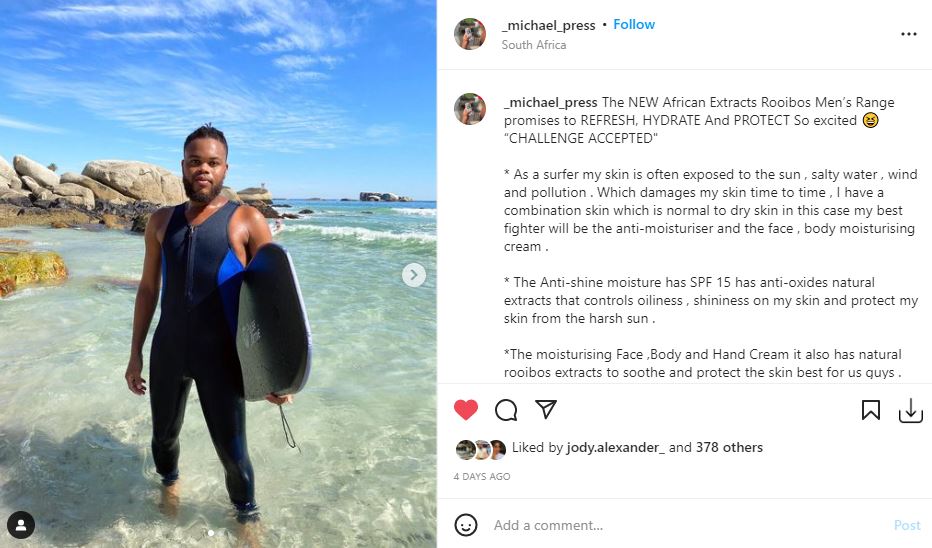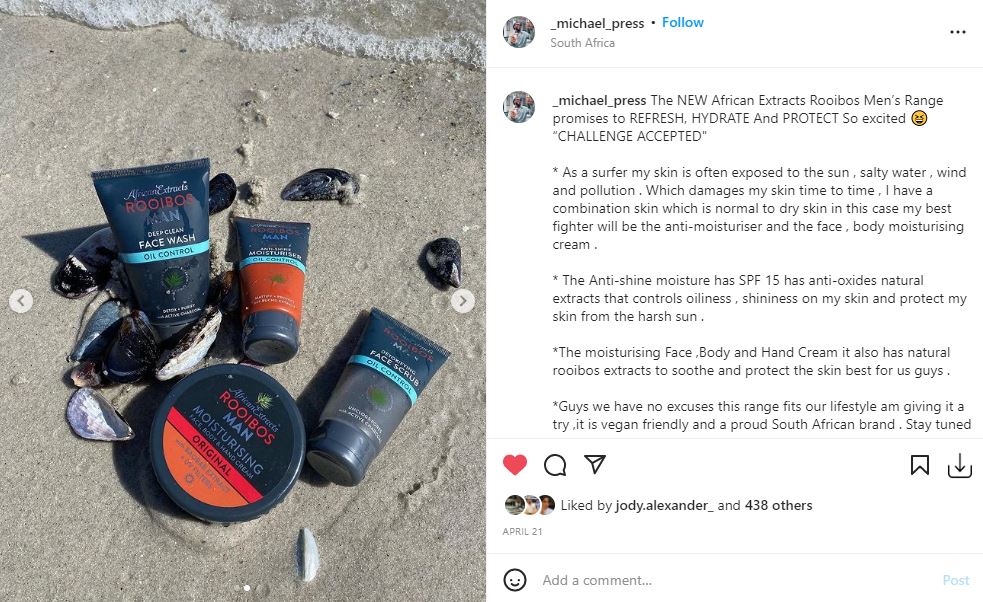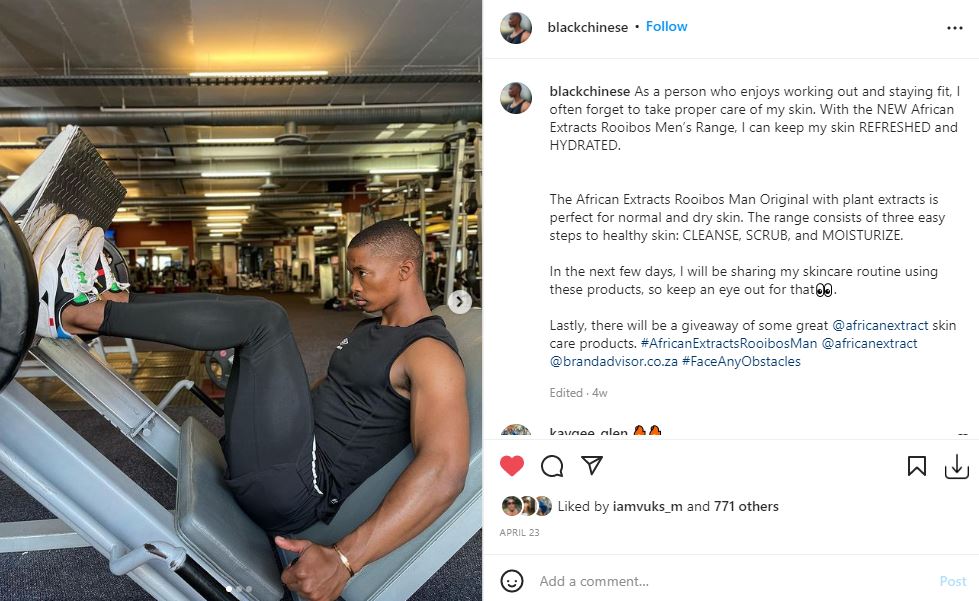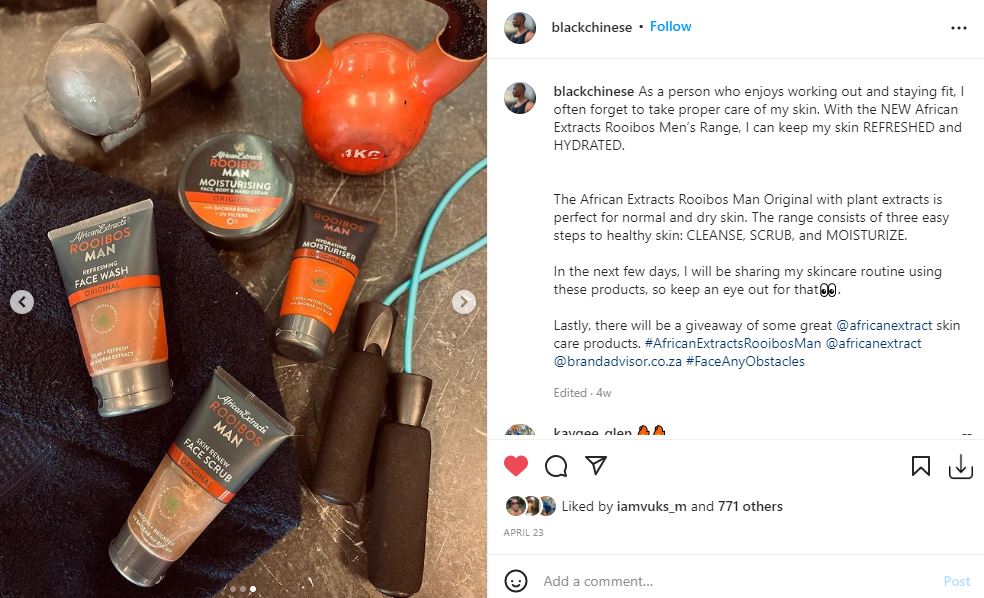 Week Two's Story
It's been one week of using the African Extracts Rooibos Man routine and followers are dying to know whether the range has lived up to the challenge of keeping up with their lifestyle.
Our team of REALfluencers deliver that and more! 
They shared a fun, mini vlog where they demonstrated what each product does and in which order to use it. Then they revealed whether the new routine managed to keep up with their lifestyle, and how it made their skin feel. We noticed that the natural ingredients and local origins were a crowd favourite. 
Finally, they invited followers to join the #FaceAnyObstacles competition where they could stand a chance of WINNING their own African Extracts Rooibos Man hamper. How? By commenting on their unique experience battling their skin with their busy lifestyle. 
We received some interesting comments but one thing was clear: REALfluencers and followers may be able to handle the sting of salty air, late nights, early mornings, grease, grime, and hustling in the sun, but their skin simply cannot.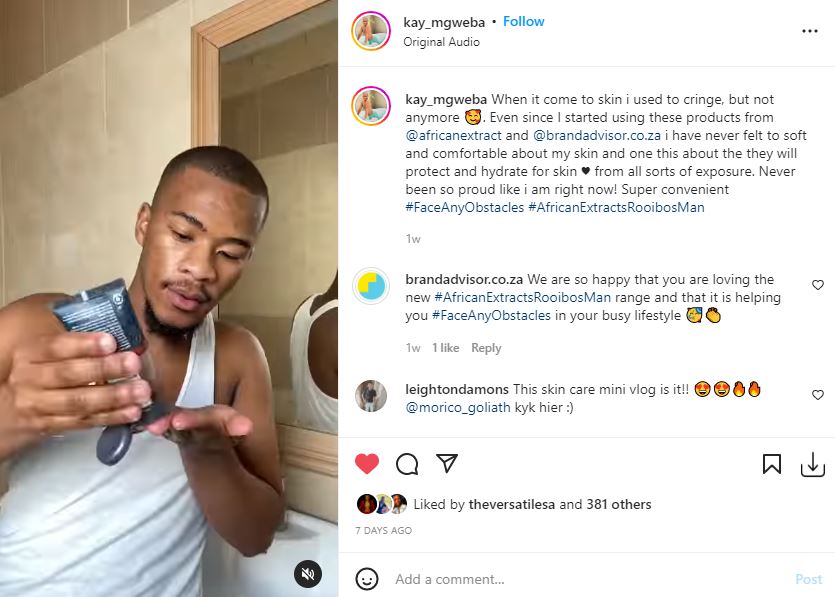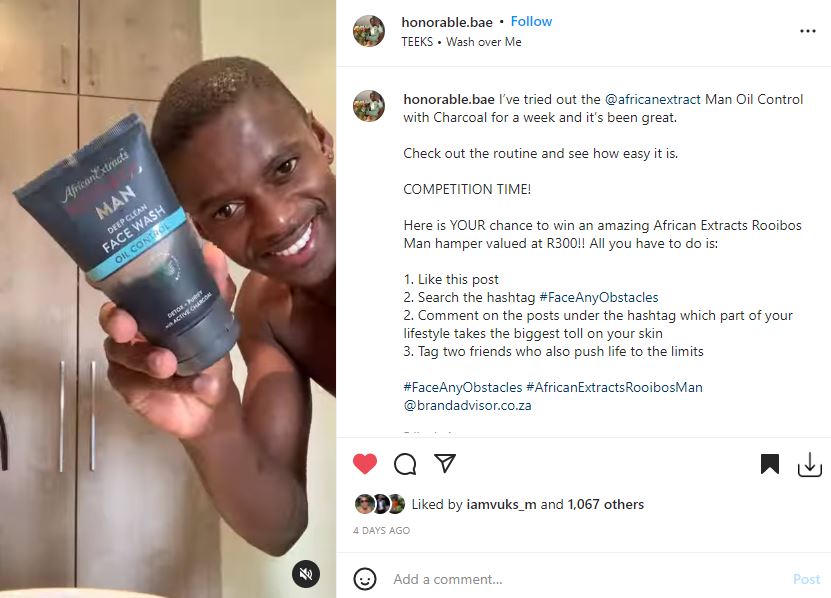 About #AfricanExtractsRooibosMan
REALfluencers loved the new African Extracts range and especially loved that the products have natural ingredients, and are locally made. Our Real Guys realised the toll their lifestyle could have on their skin and that having a good skincare routine is key to helping them #FaceAnyObstacles.
For more reviews, CLICK HERE.