African Extracts Rooibos Man Original Skin Renew Face Scrub 75ml
African Extracts Rooibos Man Original Skin Renew Face Scrub 75ml
Hot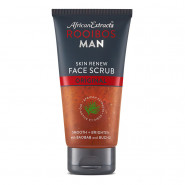 Brand: African Extracts Rooibos Man
Price: R69,95
75ml African Extracts Rooibos Man Original Skin Renew Face Scrub
Made with Bio-active Rooibos, Baobab, and Buchu extracts, this gentle exfoliator works to scrub away dead skin cells and reveal a renewed complexion. Use once or twice a week.
User reviews
African Extracts Rooibos Man Original Skin Renew Face Scrub
You can feel the essence of this face scrub soaking in your skin and breaking down dead skin. Smells nice, looks nice and I think it's the anchor of this hamper. Doing what an exfoliator says it does. I normally struggle to find good exfoliators as the ones I've used previously, have made my skin worse but this hasn't been the case this time. The price is also very reasonable for an exfoliator.