African Extracts Rooibos Man Original Moisturising Face, Body, & Hand Cream 125ml
African Extracts Rooibos Man Original Moisturising Face, Body, & Hand Cream 125ml
Hot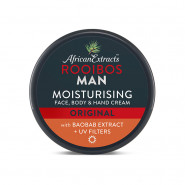 Brand: African Extracts Rooibos Man
Price: R65
125ml African Extracts Rooibos Man Original Moisturising Face, Body, & Hand Cream
You enjoy living life to the max, but your skin doesn't. Restore condition to hard-working skin with new Rooibos Man Multi-purpose Moisturising Cream that you can use on your face, hands and body. With Bio-Active Rooibos, soothing Baobab extract, sun filters and a classic spicy fragrance. This moisturising cream is suitable for all skin types. Apply a small amount as needed to skin that feels dry and rough.
User reviews
I loved it really absorbs nicely to my skin
African Extracts Rooibos Man Moisturising Face, Body, & Hand Cream
A body lotion that smells nice, feels nice, and acts as a good body lotion. Just personally I prefer body lotions to just be body lotions only. Otherwise extremely solid product.