There is nothing better than feeling and looking the part. Clinique knows this with their recenlty released Clinique Aromatics in White fragnance. It is pure and refined, yet holds confident notes of serene woods, transparent petals and warm grey ambers, allowing you feel in charge of a room.
Looking the part comes hand-in-hand with feeling the part and that is why Clinique has created four beautiful Aromatics in White inspired looks for you to try out this Valentine's month. The first? Pretty Easy…
Smokey, sultry and subtle is the goal with Pretty Easy. For a brown smokey eye, Clinique recommend the Jenna's Essential Eye Shadow Quad (R415 at major Department stores). Complete with matte nudes and deep browns, this eye shadow quad will give you the sultryness you desire. For added drama, line your eyes with the Clinique Quickliner for Eyes in Roast Coffee (R245 at major Department stores). Be sure to smudge it out with the spongy end of the liner for extra smokeyness. A brown versus a black pencil makes this look appropriate for daytime!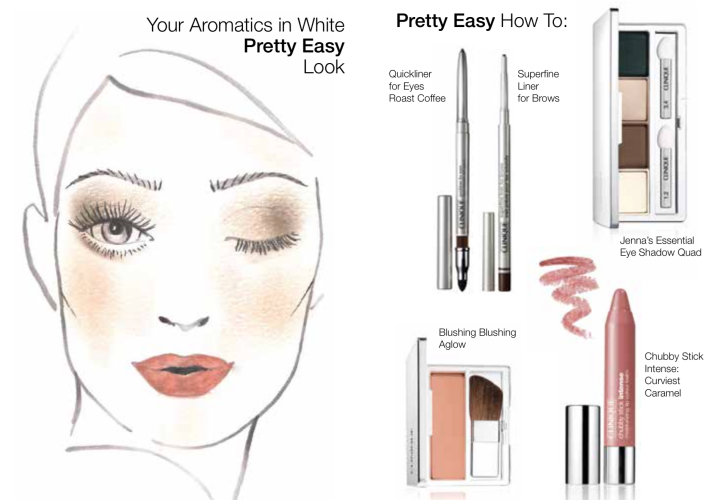 The Clinique Blushing Blush Powder Blush in Aglow (R300 at major department stores) is a soft coppery nude with a golden pearl finish, giving you a much desired radiant look. And for lips, the Clinique Chubby Stick Intense in Curviest Caramel (R245 at major Department stores) will be your go-to.
BB Beauties, what do you think of the Pretty Easy #CliniqueAllinWhite makeup look? Will you be giving it a try? Leave your answers in the comment section below!
18 total views, 1 views today