500g Simple Truth Coconut Oil
500g Simple Truth Coconut Oil
Hot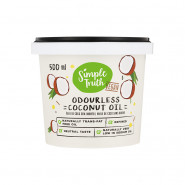 Brand: Simple Truth
Price: R34,99
Odourless vegan coconut oil, a naturally trans-fat free oil.
User reviews
I moved over to this brand of coconut oil, haven't looked back since, love it..
You can never go wrong with Simple Truth products. I loveeeethe odorless coconut oil that goes well with all my cooking. Absolutely the best and definitely a must have in the kitchen.